Latest 2023 UFC ODDS – Bet with the Best MMA ODDS & Lines
UFC odds at sportsbooks are some of the most enticing betting odds in all of sports as there are several ways bettors can win a lot of money due to the many outcomes that can happen in any given fight. For instance, online sportsbooks, or betting apps, offer betting lines on who will win the fight, but also, offer odds on how the fight will end, what round it will end in, and much more.
The top promotion in all of MMA is the UFC. With events just about every weekend, fans have plenty to look forward to and bet on each week. In this guide, we'll cover everything you need to know ahead of the next UFC fight night so that you can feel confident in your next UFC bet and learn to properly understand UFC betting odds.
How do UFC Odds Work?
Understanding UFC betting odds isn't as daunting as it may seem. As mentioned above, there are betting lines for simple outcomes like who will win and there are even more lucrative betting lines on more specific outcomes such as the over/under, how a fighter will win, etc. Additionally, MMA betting lines are typically presented in the same fashion as any other sport, with simple plus or minus signifiers (American odds).
Explaining UFC Odds
UFC odds are calculated by oddsmakers who leverage things such as computer-based algorithms, recent performances, matchup comparisons, and injury reports. Furthermore, bookmakers can adjust odds based on how the betting public reacts to initial betting odds.
Betting odds for MMA events are typically released at least one week in advance and are updated daily. In short, the bigger the number the less likely the outcome will happen, and small, or negative numbers, mean that outcome is most likely to occur. This is covered in more detail, below.
How to Read UFC Lines
Major retail and online sportsbooks will almost undoubtedly present UFC betting odds in American odds format, which means the lower the number (e.g. -300) the more likely that outcome will happen. Conversely, the higher the number (e.g. +250) the less likely that outcome will happen.
If you choose to bet on a positive line, you can calculate your potential winnings by dividing your chosen line by 100, and then, multiplying the result with your wager amount. The inverse is true if you're betting on negative odds.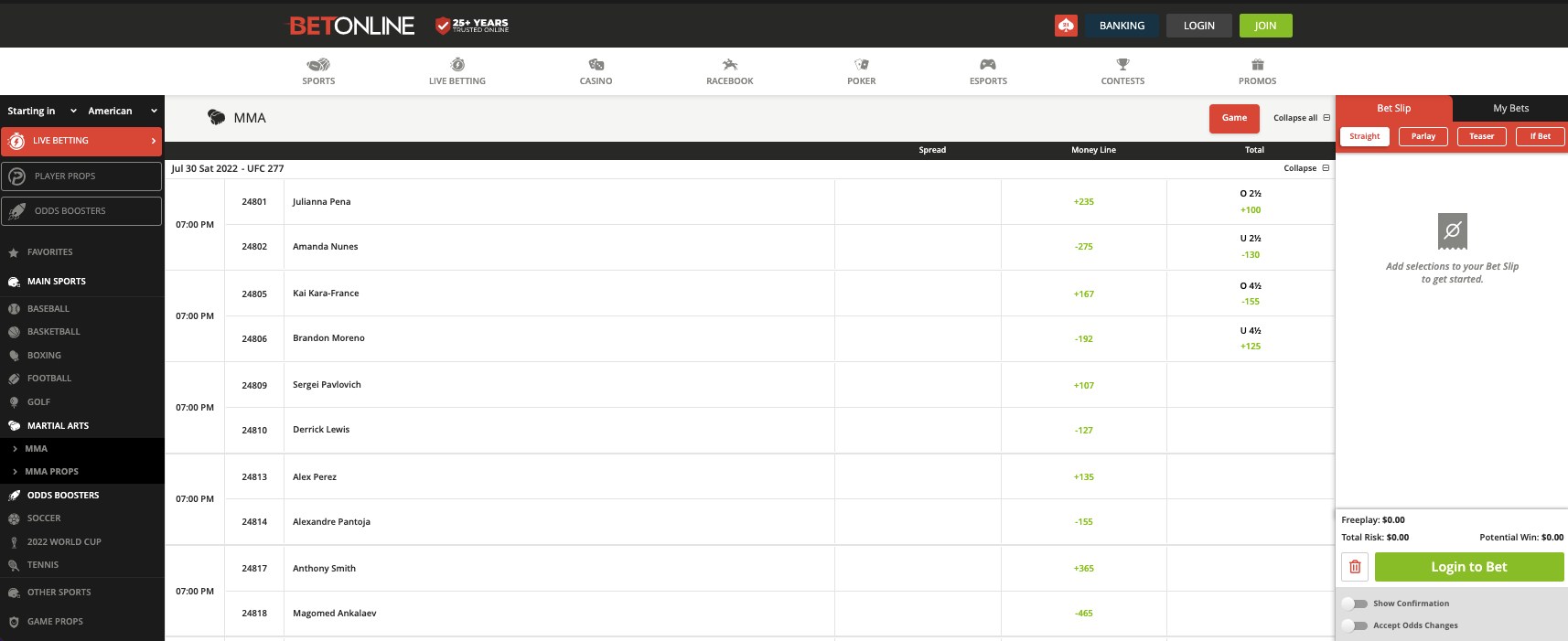 For example, if you are betting $100 on Conor McGregor to win his fight and his odds are +150, you will net $150 with a $100 wager. The same bet of $100 on odds that are -150 will net you $66.67.
Types of UFC Odds Available
The most common type of UFC odds displayed at sportsbooks are who will win the fight (moneyline odds), and the over/under on how many rounds the fight will last before it is complete. Less common MMA odds include the method of victory (KO/TKO, submission, or decision) and various prop bets such as will the fight go the distance or end in a draw, or which exact round will a fight end in and/or how will it end.
Moneyline
Moneyline wagers in MMA betting are the easiest to understand. Simply put, you are betting on which fighter will win the fight no matter what. If the fight ends in a draw, you will lose your bet.
Example:
| | |
| --- | --- |
| Fighter | Odds |
| Dustin Poirier | -210 |
| Conor McGregor | +150 |
In this example, Poirier is favored to win and thus the payout for a $100 bet would be smaller relative to a bet on McGregor. Either way, correctly bet either side and your bet would win.
Over/Under
The over/under UFC betting odd is when you choose to bet on when you think the fight will end either before (under) or after (over) the listed round.
Example:
| | |
| --- | --- |
| Over/Under | Odds |
| O 3.5 Rounds | -225 |
| U 3.5 Rounds | +180 |
For the above example, oddsmakers are favoring the fight to end over 3.5 rounds, which means the fight is likely to under at the 3.5 round mark or after (e.g. rounds 4 or 5).
Method of Victory
Arguably the most popular prop bet in UFC betting odds is the method of victory bet. Here, you can wager on the exact way you believe a fighter will end the fight. You will lose your bet if any other outcome occurs other than the one you selected, so choose carefully before committing to your wager.
Example:
| | |
| --- | --- |
| Charles Oliveira Method of Victory | Odds |
| Oliveria by KO/TKO | +110 |
| Oliveria by Submission | +105 |
| | |
| --- | --- |
| Oliveria by Decision | -125 |
Parlay Odds
Parlay odds in UFC betting odds are when you select multiple bets and combine them into one betting ticket. Each bet you select must win in order for your parlay bet to be a winner. Because you are betting on multiple outcomes, you generally have a lower chance of winning but in return, you will likely have a higher payout or higher odds.
Example:
Selection # 1: Conor McGregor to win (moneyline) @ -110
Selection #2: Israel Adesanyato win (moneyline) @ -110
Selection #3: Francis Ngannou to win (moneyline) @ -110
In this example, if you were to bet $10 on each betting line individually, you would get back $19.09 per bet. However, when bet together you'd win $57.27 in total but would have to bet $30.
Live UFC Odds
Live UFC odds are a great way to double down on bets that you placed before an event and/or adjust your bets mid-fight if you feel the need to do so. Additionally, live UFC odds adjust in real-time depending on how the fight is trending, which could enhance or decrease your odds, depending on how your fighter is doing.
Live odds for MMA betting are typically limited to just moneyline wagers as it becomes increasingly difficult for oddsmakers to adjust over/under bets and/or method of victory bets as a fight is unfolding live.
Example:
Before a fight, you may see a fighter favored to win @ -225 but due to their performance they may not be favored during the fight, so their live odds may be adjusted according to something such as -105 or even +100 or above depending on how badly oddsmakers think they are performing.
Explore Our Sportsbook Reviews
How to Sign Up & Find the Best UFC Odds
In order to find the best UFC betting odds you must first sign up at an online sportsbook. Here, we list out the best UFC betting sites, all of which are easy to navigate and offer new player welcome bonuses to help you get your betting roll started.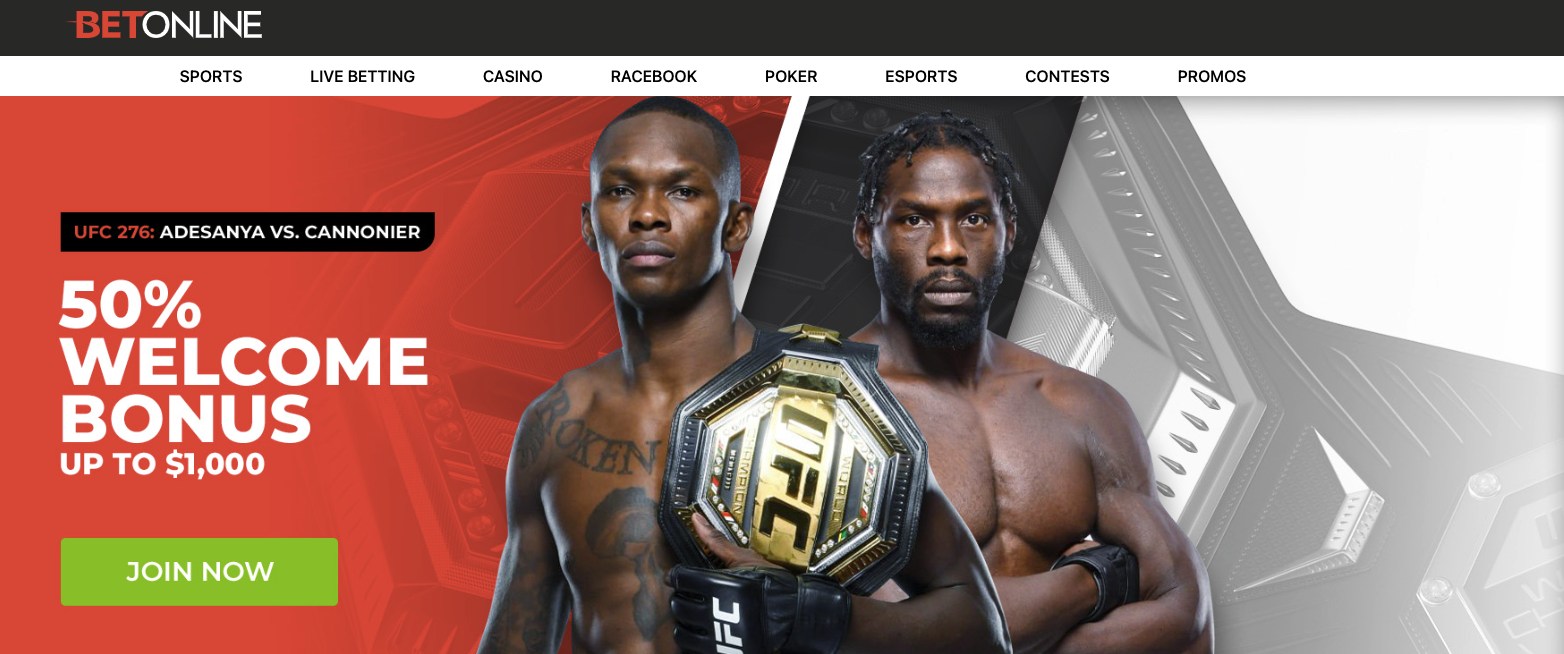 Below, is a step-by-step process on how to sign up for an online sportsbook. We used BetOnline for example.
First, visit BetOnline via your mobile device or desktop and click "Join" upon loading the home screen
Next, you'll be asked to enter basic personal information and hit "Submit" to continue
You'll then be directed to the cashier where you can choose your deposit amount
Complete the deposit form and include any promo codes to claim your bonus and/or free bets
After completing the above steps your account will be set up and you can visit the main sportsbook and find MMA/UFC
Browse the listed UFC betting odds and select your bet of choice
Click "Place Bet", watch the fights, and collect your winnings after the conclusion of the fight
The Best Sportsbooks for UFC Odds
There are many betting sites offering UFC betting odds and various MMA lines but you may be asking yourself, which one is the best? Check out the list of the best MMA betting sites and see which site meets your betting wants and needs.
Explore Our Sports Betting Guides
FAQs
How do odds work in UFC fighting?
Where can I find tonight's UFC betting odds?
How to read UFC betting odds
How to place a bet on UFC fight nights
How do you bet on negative UFC fight odds?
What percentage of underdogs win in UFC?