Sports
#22 Richmond blasts VMI, 42-10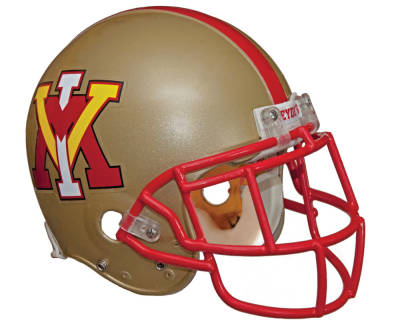 Brice Tucker ran for 120 yards, but the #22 Richmond Spiders took advantage of five VMI Keydet turnovers en route to a 42-10 victory Saturday evening at Robins Stadium in Richmond.
The Keydets (1-2) forced a punt on the first Richmond drive of the game, but on VMI's first play from scrimmage, Al Cobb was picked off by Ayo Ogunniyi and the interception was returned for a touchdown.
Richmond (2-1) would lead the rest of the way, helped by three more interceptions and a Keydet fumble inside the UR 10-yard line.
Offensively, Tucker was the standout for the Keydets with his 120 yards and a touchdown on the ground. He helped the Keydets to 202 rushing yards, VMI's first 200-yard rushing game since playing Davidson last season. Cobb, however, struggled to a 13 for 28, four interception night.
On the other side, UR quarterback Kyle Lauletta was 15 for 22 for 209 yards and three touchdowns. The Spiders completed passes to 11 different receivers in the win.
Following the initial pick-six, the Keydets countered with a 15-play, 66-yard drive that ended with a Dillon Christopher field goal to cut the lead to 7-3 after one quarter.
The Keydets had the ball first in the second quarter and were marching down the field. On a first down from the UR 19, Tucker ran the ball inside the 10-yard line but, on a momentum-turning play, coughed up the football. UR recovered at the seven and promptly marched 93 yards in 11 plays. Lauletta completed a three-yard touchdown pass to James Pavik to make it 14-3, Richmond.
With 5:45 left in the half, the Keydets had the ball, still down by 11. Cobb was hurried on a drop-back pass and was intercepted by Madison Day. Day ran the ball back 25 yards for a touchdown and a 21-3 UR lead.
VMI then cut into the margin with its next drive. An 11-play, 75-yard drive ended with a one-yard Tucker TD plunge and a 21-10 Spider lead. That marked the score at halftime.
The Keydets had a chance to cut into the margin on the first drive of the second half, but Cobb was picked off on the third play of the quarter. Lauletta then answered with a 53-yard touchdown pass to Porter Abell that made it 28-10, UR.
The Spiders added one additional touchdown in both the third and fourth quarters to account for the final margin.
Defensively, Jon Strozyk led the Keydets with 10 tackles, a career-high. Day had 12 stops for Richmond and David Jones had two of his team's four interceptions.
VMI football will return to action next Saturday, taking on Furman in the SoCon opener for the Keydets. Game time in Greenville, S.C. is set for 3 p.m.
Postgame: VMI Head Coach Scott Wachenheim "I thought Richmond is a heck of a well-coached team. Danny Rocco and Bob Trott (defensive coordinator) did a heck of a job. They were very physical up front on offense and we turned the ball over way too many times on offense to compete in this game."
"I think we have to take all the lessons we learned from this game and get on the film and start preparing for Furman. It's our first SoCon game and we have to get ready, get after it, and recover from this one and keep fighting."