Local
136th generation of new Virginia State Police troopers graduate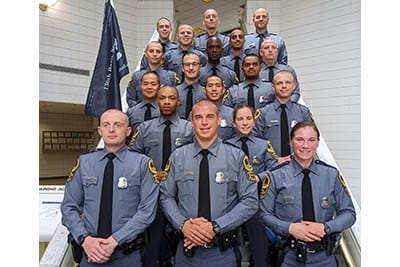 The Commonwealth of Virginia graduated its 136th generation of Virginia State troopers on Friday, Aug. 12.
The 18 new troopers were presented their diplomas during commencement exercises at the State Police Training Academy in Chesterfield County.
"The 136th has completed one of the toughest law enforcement academies in the country and are now joining a long line of distinguished troopers," said Colonel Gary T. Settle, Virginia State Police superintendent. "2022 marks the 90th anniversary of the Virginia State Police, and these new troopers will forever be part of our valued history. We are proud to have them as part of the Virginia State Police family."
The new troopers have received more than 1,300 hours of classroom and field instruction in more than 100 different subjects, including de-escalation techniques, strategies to assist people in mental health crisis, ethics and leadership, fair and impartial policing, constitutional law, emergency medical trauma care, and public and community relations.
The members of the 136th basic session began their 28 weeks of academic, physical and practical training at the academy on Jan. 26. The graduates of the 136th Basic Session are from every corner of the Commonwealth, as well as California, Iowa, Maryland, New Hampshire and Washington.
The new troopers will now report to their individual duty assignments. For their final phase of training, each trooper will spend an additional six weeks paired up with a field training officer learning his or her new patrol area.
The graduating class includes (name, hometown, assignment):
Gilmar Raymund Bulado Alcasid – Lakewood, California  – Portsmouth/Suffolk/Chesapeake
Usman Asif – Leesburg – Fairfax
Emily Marie Ball – Meriden, New Hampshire – Prince William
Cornelius Clyde Boykins, Jr. – Williamsburg – Prince William
Jarrad Jeffrey Byrd – Gate City – Prince William
Patrick Arthur Cantrell – Pound – Botetourt
Jason B. Chatman, Jr. – Richmond – Henrico
Morgan Bethany Douglas – Chesterfield – Dinwiddie
Coltin Allen King – Fort Chiswell – Fluvanna
Clayton Ander Linville – Richmond – Hanover/Henrico
Noah Aaron Maxfield – Castlewood – Rockbridge
Andrew Ray Murley – Sac City, Iowa – Rockingham
Jimmy Williams Nguyen – Frederick, Maryland – Fairfax
Joshua Michael Nowacki – Fredericksburg – Stafford
Bryan Baxter Pitts – Puyallup, Washington – Hampton/Newport News
Justin Lee Ramey – Sperryville – Rockingham
Nicholas Ryan Thompson – Chesapeake – Hampton/Newport News
Roosevelt Westbrook – Norfolk – Norfolk/Virginia Beach