Will Virginia basketball have to fundamentally change its offensive approach in 2019?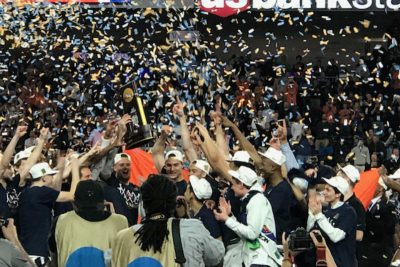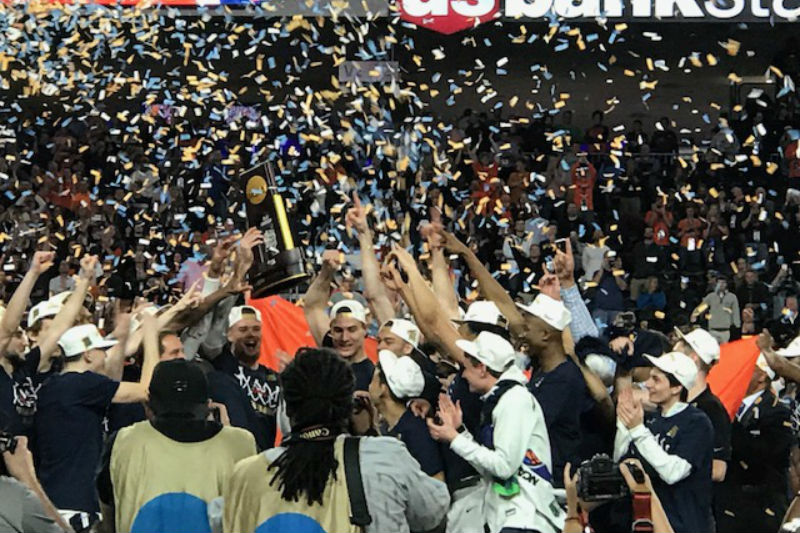 A major reason Virginia basketball reached historic heights in 2019 was its ability to play — and excel at — "positionless basketball," a philosophy that is dominating the sport.
In essence, the Cavaliers could run out any combination of five rotation players and match up well. Sure, players were given "guard," "forward," or "center" distinctions, but it didn't necessarily mean they were glued to a set lineup that featured two guards, two forwards and a center, as the now-outdated model says. In fact, Virginia's most popular lineup in the NCAA Tournament by a wide margin included four "guards" — Kihei Clark, Ty Jerome, Kyle Guy and De'Andre Hunter — around one post player, Mamadi Diakite.
The team didn't strictly adhere to four-guard lineups, though. Far from it. Against Purdue, Tony Bennett used three "guards" and two post players — Diakite and Jack Salt — to match the Boilermakers' size inside. Just more than a week later, against Texas Tech, neither Diakite nor Salt saw the floor all that much, as Bennett used his four-guard lineup with Braxton Key as the fifth member. Of course, Key is not a center. But thanks to his size (6-foot-8, 225 pounds), physicality and outstanding rebounding, Bennett could downsize, creating a quick and versatile lineup that didn't lose anything on the rebounding front. Key pulled down a game-high 10 rebounds in the championship game, and Hunter was right behind him with nine.
Versatility is an absolute necessity in college basketball, especially come tournament time. The differing approaches the Cavaliers took in the games against Purdue and Texas Tech show just that. While the minutes bounced around for Diakite, Salt and Key, it was Clark (33.2 minutes per game), Jerome (39.3), Guy (40.2) and Hunter (37.0) who kept the team on track no matter who they shared the floor with. By combining backcourt consistency with frontcourt versatility, the Cavaliers claimed their first national championship.
The 2019-2020 roster will be structured very differently. Currently, the team is slated to have two true "guards," as I outlined yesterday, in Clark and incoming freshman Casey Morsell. Sophomore Kody Stattmann is listed as a guard but hasn't spent much time in the backcourt and could project more as an off-ball, floor-stretching player. The Cavaliers have a few wings in Key, incoming freshman Justin McKoy and sophomore Francesco Badocchi. In the frontcourt, Diakite, Jay Huff, Francisco Caffaro and incoming freshman Kadin Shedrick (a possible redshirt candidate) represent the Cavaliers' deepest position, a complete reversal from the guard-heavy championship team.
The most obvious need for the Cavaliers is getting guard help in the form of at least one grad transfer. Bennett and his staff are in a pretty new position in that regard. Nigel Johnson, who arrived from Rutgers two years ago, represents the only grad transfer in the Bennett era. The staff will certainly get to work quickly. The next few weeks will be absolutely crucial in the reconstruction of the roster.
Beyond that, though, there lie other questions. How will Bennett adapt to said roster? The defense won't change. That much is certain. But Bennett has shown a willingness to change his offense to his roster to fit his personnel. Any good coach must. Even last year, when Virginia returned much of the previous year's roster, Bennett added some tweaks to the offense, including more on-ball screens to take advantage of the passing prowess of Jerome and Clark and the expanding offensive repertoires of Diakite and Huff. He incorporated more isolation opportunities for Hunter, the best one-on-one scorer he has had in Charlottesville.
The adjustments for this year may have to be a bit more drastic — not a complete overhaul, but perhaps more than just a tweak here or there. As his roster currently stands, the clear strength offensively is two experienced post players in Diakite and Huff, both of whom showed they can be effective when deployed separately or together.
Diakite took a big jump on both ends of the court in his junior season, and should he return for his senior year, he will take on a bigger burden. Previous to this season, Diakite had never scored more than 12 points in a game. He topped that number as a junior six times, with three of those coming in the NCAA Tournament. Diakite displayed improved touch around the rim, soft hands and a willingness to face up and score the basketball. He made 35 two-point jumpers as a junior after making just 37 in his first two seasons combined, per Hoop Math. Even more encouraging, Diakite showed vastly improved ball skills, as just 16 of those 35 makes were assisted. Another offseason of refining his jump shot and his shot creating will greatly benefit the Cavaliers — and his draft stock for next year — if he chooses to return.
Huff also showed signs of major improvement after a redshirt year and an inconsistent freshman campaign. Huff, who suffered a major shoulder injury late in the 2018 season, should reap the benefits of a full, healthy offseason during which he can continue to get stronger and refine his post game to go along with his outside touch and his tremendous athleticism. Huff had some really good performances as a role player, especially in ACC play. If he develops into a legitimate post scorer alongside Diakite, opponents will have major trouble matching the Cavaliers down low, something that hasn't been the case since the Anthony Gill-Mike Tobey pairing.
That Gill-Tobey duo is worth looking at, too, as a possibility of what Bennett can hope Diakite-Huff becomes, especially with a lack of proven perimeter scorers on board. Here's how Virginia has gotten its points (by percentage) since 2016, Gill and Tobey's final year in Charlottesville.
| | | | |
| --- | --- | --- | --- |
| YEAR | % POINTS VIA 3FG (NATIONAL RANK) | % POINTS VIA 2FG (NATIONAL RANK) | % POINTS VIA FT (NATIONAL RANK) |
| 15-16 | 25.6 (264th) | 56.4 (26th) | 18.1 (295th) |
| 16-17 | 31.0 (166th) | 54.1 (61st) | 15.0 (343rd) |
| 17-18 | 32.5 (132nd) | 52.6 (87th) | 14.9 (340th) |
| 18-19 | 35.5 (89th) | 48.1 (213th) | 16.4 (293rd) |
As those numbers show, Virginia hasn't had a truly interior-oriented offense since that 2016 team that included Gill and Tobey. Of course, that team also had the services of ACC Player of the Year Malcolm Brogdon as well as London Perrantes and Marial Shayok, among others. Still, it's a reasonable blueprint for the 2019-2020 Cavaliers to follow. That team was still very effective shooting the three (40.2 percent, 10th in the nation) but simply didn't take a ton of them (15.1 per game, 340th in the nation).
It's unlikely that next year's team takes a ton of threes, either. Clark attempted just 2.2 threes per game this season and just 1.9 in conference play. And while Morsell is considered a polished overall prospect, versatile scorer and very good long-range shooter, it's doubtful he will shoulder a major part of the offense. Remember, even Jerome and Guy weren't focal points during their 2016-2017 freshman campaign, and that team was pretty two-point dependent, too, despite their presence.
Rather, Diakite, with another offseason of development, can fill the Gill role as an active, attacking post player who is a force on the offensive glass. Diakite is still new to the game and developing quickly. It doesn't seem to be unreasonable for him to improve upon his ability to catch the ball in the mid-post, face up and score or get to the free throw line, on of Gill's greatest strengths. Meanwhile, Huff can develop into a Tobey-esque player with more range and athleticism and less proven low-post scoring acumen. They aren't perfect comparisons, but given the roster construction, their potential roles have reasonable parallels to the 2016-2017 bigs.
Of course, Virginia is still very much in the early stages of preparing for next year. The roster is nowhere near complete, and offseason practices are still to come. A strong summer from a specific player or two could propel changes to how Bennett and his staff develop their offensive strategy.
It's important, too, to remember that the bar Virginia set this season is quite literally the highest it can be. The Cavaliers are reigning national champions. It cannot get get any better than that. They finished second in the nation in offensive efficiency. It can only get one spot better than that. Some drop off — perhaps significant drop off — should be expected. The 2016 team, one of Bennett's strongest, finished eighth in offensive efficiency. After four graduations, the following year's team finished 50th in that category. The departures from this team are even more impactful. No matter what happens over the next few week as Bennett shapes his next roster, the 2019-2020 team will look very different, certainly in personnel and likely in offensive approach, too.
Story by Zach Pereles
Comments