Trending
What to do if you have roof damage in Florida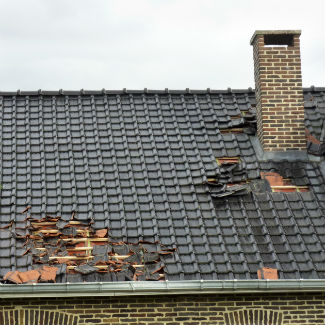 For most people, the main function of a house is shelter and protection. Protection from the elements is what we, as civilized humans, require for survival. Unfortunately, that protection comes with costs.
One of them is roof damage. It's an inevitable occurrence in every home or commercial property, because every roof has a lifespan. Here in South Florida, hurricanes, heavy rains, wind, high heat, humidity, and even those technicians that install satellite dishes can contribute to roofing headaches that sometimes lead to nightmare scenarios.
So, one day, you wake up and see a stain on your ceiling. Now, as a reliable insurance-paying homeowner, you've done what the bank requires of you. Now it's time for you to rely on your insurance company to do what's required of them. You pick up the phone and give them a call. A representative comes out and does an inspection. You wait for a response. The site of the water stain worries you, but you know you're protected because you always pay your insurance premiums. A couple of days pass, and you finally get that call – and they tell you your claim is denied or only partially covered.
Insurance companies are not working for your betterment. It is normal practice for insurance companies to deny claims, citing a host of potential issues such as construction problems, normal wear and tear, or the property owner's negligence in properly maintaining the roof.
The truth is, they don't want to pay for the claim. At this point you may not know what to do. But Louis Law Group is here for you.
What do you do?
If your roof experiences damage of any kind – such as a leak, crack, or complete destruction – start by immediately documenting the damage by taking pictures and video. Assess the damage by using a public adjuster to produce proof of damage for your insurance company. A leak in a roof may have been present before the ceiling stain. It's also important to mitigate the damage as soon as possible with or without your insurance company. Installing a tarp may be necessary to provide temporary protection. We recommend getting several quotes from licensed and insured contractors before you file a roofing insurance claim. Also spend some time going over your insurance policy to make sure that you are indeed covered.
If your roofing damage insurance claim is denied, underpaid or delayed, contact Louis Law Group, a Roof Damage Insurance Claims Lawyer in Florida for assistance. Our expert litigation attorneys will work to get you the compensation you deserve. Every case is different, and insurance companies have armies of attorneys working on their behalf. They spend millions of dollars on lobbyists to have laws written in their favor.
The Process Used When Managing Your Claim
Inspect your damaged roof
The first thing we do after you get in touch with us is to inspect the damaged roof. We'll check out how bad the damages are, which will help us know how to estimate your claim.
Secure your property
We often take action to secure the properties of our clients after roof damage. To prevent further damage to your property, we take it upon ourselves to protect your property in the meantime.
File your claims
Louis Law Group will get in touch with your insurance company/agent to brief them and provide details about your damaged roof. These details will serve as the initial reporting to your insurance company.
Review your insurance policy
Different insurance companies/agents have different policies that you will have agreed to initially. We'll take time to review your insurance company's policy to know the highest potential for your claim.
Photograph your damaged roof
We'll take pictures of all the affected areas of your roof. This will help prevent us from overlooking some damaged parts when estimating the possible worth of your loss. Also, it'll be helpful to us when we describe your roof damages to your insurance company.
Estimate the damages
Our competent adjusters will run an estimate of the possible value of your roof damage.  We'll come up with an estimated price, which will be our reference cost to help you recover the full potential of your claim.
Facilitate your compensation
Louis Law Group will stand by your throughout the process of your roof-damage claim. We'll be available for all the meetings with your insurance company/agent to facilitate your compensation.
It may feel like an overwhelming situation, but put your trust in the Louis Law Group. We're committed to our clients. Let us help you get the settlement you deserve. Contact us today for a consultation.
Pierre Louis, managing attorney, from Louis Law Group, a Florida Insurance Litigation Law Firm representing policyholders in all aspect of the insurance claims process.