Warner introduces bill to provide certainty for Virginia farmers, cattlemen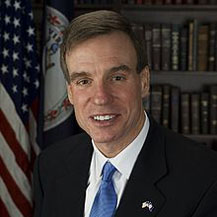 U.S. Sen. Mark R. Warner (D-VA), a member of the Senate Chicken Caucus, joined a bipartisan group of Senators to introduce the Fair Agricultural Reporting Method (FARM) Act.
The bill would protect farmers, cattlemen, and livestock markets from burdensome EPA reporting requirements for animal waste emissions. These requirements were not intended to affect animal agriculture and instead were meant to address dangerous industrial pollution, chemical plant explosions, and the release of hazardous materials into the environment.
"Virginia cattlemen and farmers should not be burdened by regulations that were designed to apply to industrial pollution and toxic chemicals – not farms and production facilities," said Sen. Warner. "Our local agricultural industry is an economic driver and job creator in the Commonwealth and this commonsense fix balances strong environmental protections with the needs of these hardworking livestock producers."
"On behalf poultry farmers in Virginia, we greatly appreciate Senator Warner for his leadership on the FARM Act. This bill will ease the burden of Virginia turkey and chicken farmers from having to report low-level ammonia emissions from the natural decomposition of animal manure," said Hobey Bauhan, President, Virginia Poultry Federation.
"The Virginia Cattlemen's Association is pleased that Senator Warner joined in patronizing the FARM Act and supporting a common sense approach to deregulation when unintentional targets like livestock production are included in a rule written for other industries.  We appreciate Senator Warner and others who signed on showing their commitment to making sure regulation is efficient and supportive of results over unnecessary bureaucracy," said Jason H. Carter, Executive Director, Virginia Cattlemen's Association & Virginia Beef Industry Council.
The Comprehensive Environmental Response, Compensation, and Liability Act (CERCLA) and the Emergency Planning and Community Right-to-Know Act (EPCRA) are laws on the books that require entities to notify authorities when they release large quantities of hazardous materials. In 2008, the EPA published a final rule exempting most livestock operations from the laws' reporting requirements.
In April 2017, the U.S. Court of Appeals for the D.C. Circuit ruled EPA did not have the authority to create this exemption for agriculture, creating confusion and uncertainty for America's Ag producers. 
The FARM Act would:
·         Maintain the exemption for certain federally registered pesticides from reporting requirements within CERCLA.
·         Exempt air emissions from animal waste on a farm from reporting requirements under CERCLA.
·         Provide agriculture producers with greater certainty by reinstating the status quo producers have been operating under since EPA's 2008 final rule.
The full text of the bill can be found here.