VMI tops #18 Virginia: Second Top 20 win in a week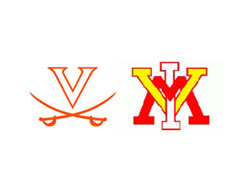 No. 18 Virginia (2-2) fell in its home opener to VMI, 9-4 in the first game at the newly expanded Davenport Field. A total of 3,709 fans were in attendance, a new record for a Cavalier home opener.
VMI (2-2) scored the first seven runs of the game including six in the first inning. The Keydets, who defeated then-No. 19 South Carolina on Friday, did all of its damage in their opening at bat with two outs. For the game, VMI racked up 12 hits and drew a total of 10 walks.
"The game was won early but our guys certainly continued to fight and climbed back in it but the two runs in the eighth made it was pretty tough," UVA head coach Brian O'Connor said. "The game was really identified for us by not throwing strikes but hopefully we get better in that area."
After the seven-run outburst, Virginia freshmen Blake Rohm (Superior, Colo.) and Kyle Whitten (Manassas, Va.) combined for 4.1 scoreless innings. Rohm made his collegiate debut in the contest and struck out two batters in two innings of work. Whitten worked his way out of a no-out bases loaded jam in the top of the seventh inning that included two plays at the plate.
Senior Caleb Knight (Checotah, Okla.) matched a career-high with three hits, finishing the night 3-for-4 with a double and two RBIs. He plated Andy Weber (Aurora, Ohio) and Justin Novak (Tokyo, Japan) with the double to pull the Cavaliers within three in the bottom of the fifth. Weber went 1-for-5 and has now hit safely in eight-straight games dating back to last season.
Making his second career start, designated hitter Devin Ortiz (Nutley, N.J.) drove in the Cavaliers' first run of the night, a single in the bottom of the second inning. The RBI was the first of his collegiate career.
The Keydets were paced by Matt Pita and Will Malbon who each put together three-hit performances. Leftfielder Matt Dunlevy drove in a game-high three runs, including the two-out, two-RBI single to put VMI up 9-4 in the top of the eighth.
Virginia will continue its 10-game home stand this Friday with the first game of a three-game series against Eastern Kentucky. First pitch is scheduled for 3 p.m. at Davenport Field.