Virginia Tech Black Alumni Reunion set for April 13-15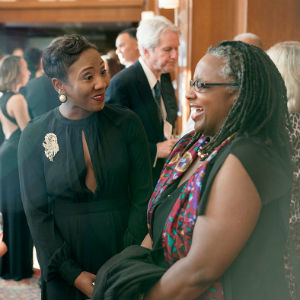 Registration is open for Virginia Tech's biennial Black Alumni Reunion on April 13-15. The reunion is chance for alumni to celebrate with friends and faculty and staff, while commemorating university milestones and connecting with students.
This year's theme is Raising the BAR: Celebrating Black Excellence at Virginia Tech. This year's event will be held in Blacksburg and will honor several university milestones, including:
The 65th anniversary of the first black student, Irving Peddrew III, to enroll at Virginia Tech.
The 60th anniversary of the first black student, Charlie L. Yates, to graduate from Virginia Tech.
The 50th anniversary of Groove Phi Groove, the first black organization on campus.
The 50th anniversary of the Human Relations Council (predecessor to BSA).
The 40th anniversary of the Black Student Alliance (BSA).
The 25th anniversary of the National Pan-Hellenic Council (NPHC).
The 25th anniversary of the Center for the Enhancement of Engineering Diversity (CEED).
Highlighted events include:
The Spring Game Tailgate with an alumni and student exhibition step show.
The Influential Black Alumni Awards Ceremony.
A student and alumni networking workshop.
Black Tie Gala with DJ Golden Boy.
"We're looking forward to this year's event and building on the success of our last reunion. The Black Alumni Reunion is such a special gathering. It's an important time for alumni to connect with the university, celebrate successes, and hear about where Virginia Tech is going," said Matthew Winston Jr., senior associate vice president for alumni relations and Virginia Tech alumnus.
In 2016, more than 500 alumni returned to campus for the reunion. At that time, President Tim Sands announced that Peddrew, who was admitted to Virginia Tech in 1953, would be awarded an honorary degree.
Since then, the university has made strides in creating a more diverse student body. In 2017, Sands announced a university goal to double the number of students from underrepresented and underserved groups by 2022.
The cost of registration for this year's Black Alumni Reunion is $160. To learn more and register, visit: alumni.vt.edu/bar2018.