Uncategorized
The voice in their head: Chiarolanzio builds a wrestling winner at Fishburne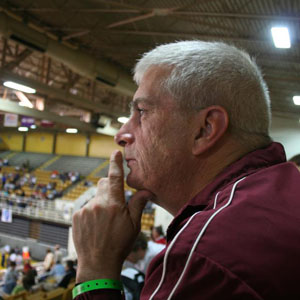 [embedplusvideo height="230″ width="360″ standard="http://www.youtube.com/v/xpQez8AFphY?fs=1″ vars="ytid=xpQez8AFphY&width=360&height=230&start=&stop=&rs=w&hd=0&autoplay=0&react=1&chapters=&notes=" id="ep1563″ /]
Novak Porter was a freshman at Fishburne Military School in search of a winter sport. He tried basketball, but decided quickly that wasn't for him. Then he ran into the man known around campus as Coach C.
"I said, Coach C, tell me about wrestling. He said, Porter, I'll tell you right now. It's a sport that will kick your butt," said Porter, now a senior and four-year member of the FMS wrestling program.
It's with that sales pitch, repeated over and over, that Coach C, aka Rich Chiarolanzio, has turned the Fishburne program into one of the top wrestling programs in the state of Virginia.
Currently at 18-3 in the 2012-2013 season, the Caissons have their sights set on Virginia Independent Conference and state titles. The work toward those lofty heights begins in the most humble environs.
"I basically explain to them that you don't win matches on match day. You don't win tournaments on tournament day. You win with the hard work you do up on the stage here. This is our wrestling room. And this is where it starts," Chiarolanzio said before a recent practice.
A few minutes earlier, Coach C had been honored by the school for his 100th career coaching victory. All 36 members of the 2012-2013 team took their turns passing the plaque commemorating the achievement down the line.
"I didn't do this," Chiarolanzio said, clutching the plaque. "They did," he said, now gesturing at his wrestlers, "and all the other ones in the past."
Still looking at his team, Chiarolanzio continued. "This is great, but it's about them. They're the ones that go out on the mat every day. They're the ones that dedicate themselves up on that stage every day for practice and really do the hard work," Chiarolanzio said.
Chiarolanzio also coaches football and baseball, "but wrestling is my passion," he said, dating back to his days on the mat in elementary school. He wrestled competitively through his years in the United States Army, in which he served for 20 years before moving into education, first at Massanutten Military Academy before coming to Fishburne four years ago.
A self-described "straight shooter," Chiarolanzio doesn't hold back when talking with prospective student-athletes about what will be expected of them when they step on his mat.
"I tell the kids on the first day of practice, Come to practice and work hard. That's a requirement. Requirement number two is do the right thing by the Corps of Cadets. Requirement number three is do the right thing as a student. If you can't do all three, no hard feelings, there's the door. Because you won't be successful as a part of this team," Chiarolanzio said.
That tough-love sales pitch is what sold Porter on wanting to devote his heart and soul to wrestling.
"Coach said the sport would kick my butt, and that it would do so mentally, physically and emotionally," Porter said. "You have to be out there ready to put your all to the mat every practice. It's not like football, where you get a water break in between. Wrestling is a constantly moving sport. You're working every muscle group in your body.
"Coach said, You think you're in shape from football? You're nowhere near in shape for wrestling. And I said, OK, Coach, I'll take you up on that challenge. Honestly, that was the best decision that I've ever made in my life," Porter said.
Sherri Fosdick has seen a similar response from her son, Thomas, an eighth-grader in his first year on the FMS varsity.
"Coach C would probably be disappointed if I focused only on him and the job that he does, because he's such a team-oriented guy, but I know from talking to Thomas and from watching him that Coach C has really been a force of encouragement in my son's wrestling career. Being a young wrestler, he really needs that. So to have someone to encourage him to keep going and keep working and striving to be the best that he can is so, so important," Fosdick said.
What impresses Fosdick the most as a parent is how much it seems Chiarolanzio lets himself get into his wrestlers' matches.
"He's there every step of the way with these kids from the moment they step on the mat. I know from my son being a new wrestler that this is a key to building his confidence and his desire to continue with the sport," Fosdick said.
For Chiarolanzio, a wrestling meet is a no-holds-barred affair even for the coach.
"I'm not a coach that sits at the corner of the mat. I can't remember the last time I sat at a wrestling match. Do I yell? Yeah. Sometimes I have to. It's not negative. It's getting their attention. It's helping them get focused. That's why my voice is cracked this time of year. It's from all the yelling," Chiarolanzio said.
And what is he yelling?
"I like the fact that when everything is said and done in a wrestling match, you can't turn around and blame somebody else. This is where you have to step up and take responsibility for everything you do or don't do, because it's going to show on the mat," Chiarolanzio said.
"As the T-shirt says, there are no substitutions, there are no timeouts. It's six minutes, you and another individual on a wrestling mat, mano a mano," Chiarolanzio said. "I tell them straight up, the guy you've got to wrestle today is probably the best guy you've got to wrestle all year. You're going to need to be at your absolute best to win this match. I want them to know what this is about, where they're going, and what's expected of them."
That message, repeated over and over, ends up sinking in with his wrestlers.
"In the summer, when I'm working out, I can hear Coach in my head. OK, let's knock out some pushups," Porter said. "On the mat, it's to the point where he doesn't need to yell at me anymore. I know what he's going to say. Porter, let that go. Porter, get to your belly. Porter, base up. Porter, you need to move. I know it before he says it."
As grueling as each practice is, as tough as each meet is, Chiarolanzio has had no problems recruiting and retaining wrestlers. He has 36 on the active roster heading into the final weeks of the 2012-2013 season.
"The impressive thing is the kids who aren't in the starting lineup who haven't walked away, who haven't quit. They're still at practice every day, they're still working hard. They still give the effort," Chiarolanzio said. "That in itself tells me that they've really bought into it, that they want to be part of something special. That's what makes it special, that they bought into it. Coach C didn't make it special. I just gave them the direction to go in, and they've run with it."
Chiarolanzio might not think that there's an element of Coach C making it special, but to hear Porter tell it, there is something to that notion.
"It's a great feeling knowing that this team has contributed to him getting to that 100-win plateau. Knowing that I've busted my butt in practice, and that that has helped not just myself, but my teammates, and helped my coach get to this milestone, it's just a good feeling," Porter said.