Staunton Victim Witness Program receives facility dog from Canine Companions for Independence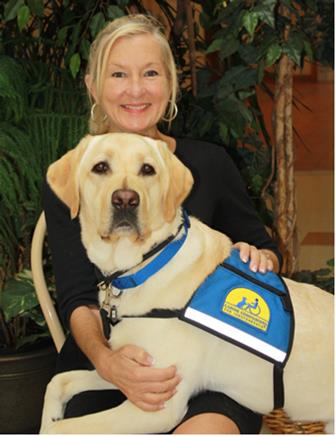 As the director of the Staunton Victim Witness Program, Janet Balser has seen pain and horror through the eyes of physically and sexually abused children. Her compassion for them and her desire for justice has inspired her to find a new and less traumatizing way for these victims to speak out with help from a new four-legged friend.
Balser recently graduated from two weeks of training and received an assistance dog from Canine Companions for Independence, a non-profit organization that breeds, trains, and places assistance dogs for children, adults and veterans with disabilities.
Balser was matched with a Facility Dog named Murph, a 2-year-old lab/golden retriever cross, who responds to more than 40 advanced commands. Murph now works with Balser at the Staunton Victim Witness Program. Canine Companions' facility dogs are expertly trained dogs that partner with a facilitator.
Murphs' new job is to be at the side of an abused child or adult when they are giving recorded interviews that will be used in court. The dog will give support both before and after testifying.
Balser recently graduated after completing Team Training, a rigorous training session at Canine Companion's Northeast Regional Center in Medford, N.Y. During Team Training, she learned all of Murphs' commands and how to properly care for him. Team Training is an essential part of Canine Companion's program because it gives the recipient an opportunity to learn how to work with and benefit from an assistance dog. The process consists of daily lectures, exams, practice, and public outings.
Canine Companions assistance dogs are provided free of charge thanks to the generosity of donors. Costs for each dog exceed $50,000 to breed, raise, train, and provide ongoing support.
About Canine Companions for Independence
Canine Companions for Independence is the largest non-profit provider of trained assistance dogs with six regional training centers across the country. Established in 1975, Canine Companions provides highly trained assistance dogs to children and adults with disabilities and is recognized worldwide for the excellence of its dogs, and quality and longevity of the matches it makes between dogs and people. There is no charge for the dog, its training and on-going follow-up services. For more information, visit cci.org or call 1-800-572-BARK.
Comments