Staunton teen named Cadet of the Month at Fishburne Military School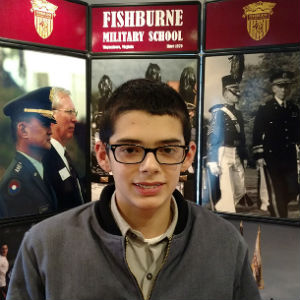 Cadet Darian Belisle, son of Adam Belisle and Michelle Rosado, has been named the Fishburne Military School Cadet of the Month for January 2018.
Belisle, a freshman from Staunton, is in his first year at Fishburne Military School. Belisle is a member of the FMS basketball and soccer teams. He has been named to the Distinguished Honor Roll and aspires to attend either the University of Virginia or the United States Naval Academy.
He hopes to pursue a career in the United States Marine Corps.
The announcement, which reads in part: "Through outstanding performance of duty, Cadet Darian Belisle is hereby awarded Cadet of the Month. … Your exemplary performance and dedication to duty is a testament to your deserving such and honor," was made during a formation before the entire assembled Corps of Cadets.