Staunton Creative Community Fund offers zero-interest loans for 10-year anniversary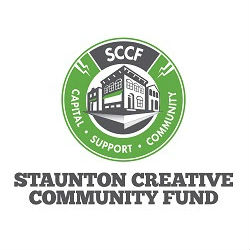 The Staunton Creative Community Fund announced a new lending opportunity for new and expanding businesses in the Central Shenandoah Valley. In celebration of the organization's ten-year anniversary and in cooperation with the Department of Housing and Community Development, SCCF will be accepting applications for small business loans up to $25,000 at a zero percent interest rate.
"For the past ten years, I've seen the Staunton Creative Community Fund be a part of the businesses in this community that I go to every week," said Nick Walge, Director of Capital. "I am so proud that we are able to offer this opportunity for entrepreneurs who are shaping this area's economic landscape."
This interest-free pool of funding is made possible through DHCD's Small Business Economic Development Fund, which is providing $50,000 in lending dollars to assist entrepreneurs in starting or expanding microbusinesses. According to a report issued by the Association for Enterprise Opportunity, microbusinesses (defined as enterprises with fewer than five employees including the owner) represented 92% of all business in the United States.
"The first thing I would do," says Brent Schoenduby, owner of Shenandoah Pizza, "would be to get new furniture, new chairs – having a good atmosphere is so important in the restaurant industry. I'd be able to do that with a little extra cash flow."
Beth Rosen Brown, owner of the Crack the Code Escape Room, said: "That sort of deal is huge to a small business, especially a start-up like mine. My first thought would be to put it towards a new room – ad campaign, props, set design – the whole nine yards."
Kathy Deacon, SCCF's Executive Director, says: "Being able to offer this pool of loan funds to support micro-enterprise development in our community feels like the perfect way to kick off SCCF's ten-year anniversary. We also understand that this capital opportunity provides people more choice in how they live their lives."
Business owners interested in applying for this pool of money must be willing to submit an application, which includes a written business plan that details how the loan will positively affect the enterprise. SCCF offers an 8-week Business Planning Curriculum; the next series of courses begins on January 17th. More details on SCCF's loan and educational programs are available on their website at www.stauntonfund.org.