St. Anne's-Belfield fourth-graders create outdoor kitchen for playground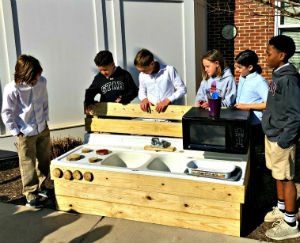 St. Anne's-Belfield School fourth-grade students recently investigated how they could make recess even more fun for their kindergarten buddies.
Students interviewed Kindergarteners and conducted research at recess, and learned that the younger students enjoyed imaginative play. With this in mind, the fourth grade students designed, created a prototype, and worked with the School's facilities staff to build an outdoor kitchen for the playground. Featuring a sink, "stove," faucet, and even microwave, the kitchen was recently unveiled on the School's playground.
FAB Lab in the St. Anne's-Belfield School Learning Village Grades K-4 allows students to engage in student-initiated inquiry. It is the School's own version of Google's '20% Time,' adapted to be developmentally appropriate for young children with natural curiosity and questions. During FAB Lab time, students develop perseverance as they generate questions, solve problems, collaborate with peers, and delve into their own curiosities and interests.
About St. Anne's-Belfield School
St. Anne's-Belfield School is a co-educational preschool through grade 12 day school of more than 940 students and 150 faculty and staff, with a boarding program in grades nine through twelve. Nineteen countries are represented in the student body, with 41 percent of students receiving financial aid. More information may be found at www.stab.org.