Roanoke student named Congressional Art Competition winner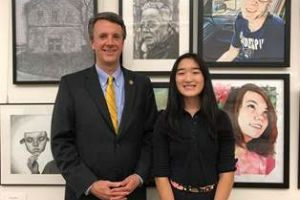 Congressman Ben Cline announced Midora Firebaugh of Roanoke as the winner of the Sixth District's 2019 Congressional Art Competition. Firebaugh is a rising senior at North Cross School in Roanoke.
On Monday, June 25, Cline welcomed Firebaugh and her parents, Wayne and Lisa, to Washington to view her piece on display.
"I am impressed with Midora's talent and proud to see her original piece on display in the Capitol," Cline said. "Competitions like the Congressional Art Competition are a wonderful way to highlight the skills students in the Sixth Congressional District possess. I commend all who entered this year's competition and look forward to even more entries in 2020 and beyond."
Firebaugh's piece entitled "Salt of the Earth" was a charcoal drawing of her grandfather, a Charlotte County tobacco farmer. Her drawing was one of 11 entries submitted to this year's Sixth District competition. Each House member hosts a similar competition, with all winners on display in the Capitol by alphabetical order of state or territory and numerical order of district.
Comments