Sports
Richmond blasts UVA, 37-20: Box score, game notes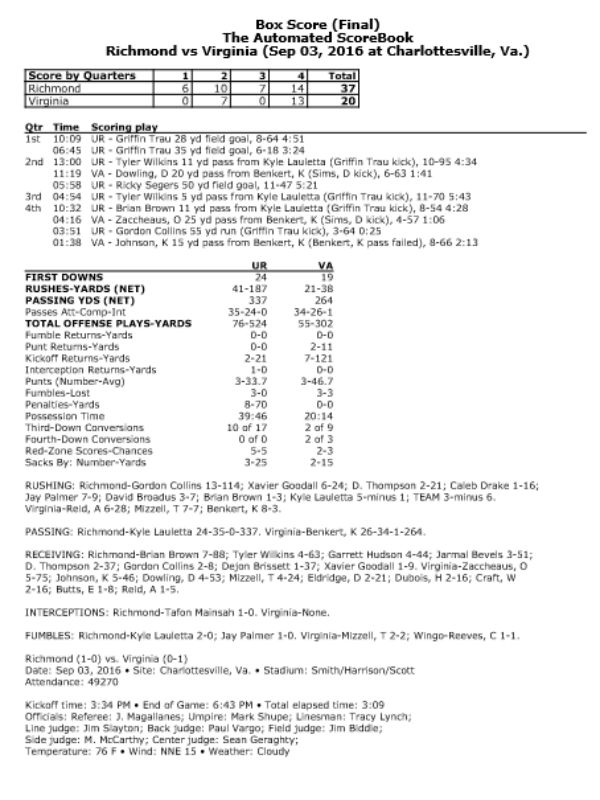 UVA Team Notes
UVA has lost its season-opening game in each of the last three seasons
UVA has lost two of its last three home season openers
UVA's 10-game winning streak vs. Richmond ended with the loss
Richmond's 37 points were its most scored against UVA in 33 all-time games (19 twice)
Virginia is now 28-3-2 all-time vs. Richmond
The Cavaliers fell to 74-21-7 all-time in home openers and 80-28-9 all-time in season openers
Head coach Bronco Mendenhall fell to 8-4 in season openers (8-3 at BYU)
Mendenhall lost his first career game against an FCS opponent (8-0 at BYU)
UVA allowed 524 yards, its most since allowing 610 vs. Clemson in 2013
UVA was not penalized for the first time since 2004 vs. Maryland
Virginia First Time Starters: Offense: Kurt Benkert (QB), Warren Craft (WR), Jake Fieler (LG); Defense: Jordan Mack (OLB)**, Jack Powers (DE), Steven Wright (DE) and Myles Robinson (CB)
Warren Craft (WR), Tanner Cowley (WR), Hasise Dubois (WR)**, Bryce Hall (CB)**, Eli Hanback (DE), Ben Hogg (WR), Jordan Mack (OLB)**, Juwan Moye (OLB)**, Gladimir Paul (OLB), Joe Reed (WR)**, Chris Sharp (S), Jahvoni Simmons (ILB), James Trucilla (DT) and Steven Wright (DE) made their collegiate debuts
** – denotes true freshmen
UVA Player Notes
QB Kurt Benkert went 26-for-34 for 264 yards, three touchdowns and one interception in his first career start and UVA debut
Benkert's 26 completions and three touchdown passes tied for most among UVA quarterbacks in their first career start (Mike Groh, 1994)
Benkert's 264 passing yards ranks No. 3 all-time among UVA quarterbacks in their first career start, trailing only Aaron Brooks (305) and Phillip Sims (268)
Benkert became the 11th different UVA quarterback to start an opener in the last 12 seasons
Olamide Zaccheaus had five receptions (career-best) for 75 yards and one touchdown
Doni Dowling hauled in his first career touchdown reception and had four catches for 53 yards
Keeon Johnson matched career-bests in receptions (5) and touchdowns (1)
Taquan Mizzell extended his reception streak to 34 games (4 receptions, 24 yards)
Micah Kiser led UVA with 14 tackles and had one sack and two forced fumbles
Chris Sharp led UVA with 73 kickoff return yards in his collegiate debut
Chris Peace had five tackles and recorded his first career sack
Zach Bradshaw had a career-best two tackles for loss and his first career forced fumble
Andrew Brown had a career-best seven tackles
Kirk Garner had a career-best six tackles
Richmond Notes
Today's win is Richmond's fourth win over an ACC opponent in the past 10-plus seasons.
It's the first win over UVA since November 2, 1946 when the Spiders won in Richmond, 19-7
The 38 rushing yards by UVA is the fewest by a Richmond opponent since October 25, 2014 when Elon rushed for 17 total yards. It's the fewest yards ever gained by an FBS opponent against the Spiders.
The 37 points is the most scored by the Spiders against a BCS opponent
Kyle Lauletta's 337 passing yards marks his fifth career 300+ yard passing game.
With 337 yards passing, Lauletta eclipses 4,000 yards passing in his career, making him just the eighth Spider in program history to reach that plateau.
With 114 yards on the ground from Gordon Collins, the Spiders have now had a 100-plus yard rusher in eight of the past nine games dating back to the 2015 season.
Tyler Wilkins caught his first two career touchdown passes in the victory.
Brian Brown has at least five catches in nine of his past 10 games dating back to last year.