Press Conference: Washington coach Jay Gruden and quarterback Kirk Cousins
Washington coach Jay Gruden and quarterback Kirk Cousins talk with the media on Wednesday. Washington (1-4) plays at Arizona (3-1) on Sunday.
Coach Jay Gruden
On the injury report:
"Did not participate – Tracy Porter, hamstring; Perry Riley, knee; Brian Orakpo, ankle; Trent Williams, knee; Ryan Clark, ankle. Limited was Jordan Reed. Trenton Robinson was full go, Kedric Golston was full go, [Jason] Hatcher was full, Akeem Jordan was full, Frank Kearse was full and [Tyler] Polumbus was full."
On tackle Trent Williams and if there is a chance he could miss Sunday's game:
"He's still obviously sore. There's always a chance, but he went last week. He came out of the game pretty well. He was a little bit sore. But I think today, since it's only two days after the game, he needed a day off for recovery."
On coaching takeaways:
"That's an important point that we're trying to make. You try to make that as a coach all the time, A) about not turning the ball over, and B) getting turnovers. That's flying to the football, pursuing to the football and people holding people up and going and ripping the ball out and then obviously making plays on the ball – defensive backs, linebackers getting hands up in the passing lanes for tipped balls. It's just an effort thing and it's a belief that the defense has to have to create them and special teams. We've got to do a much better job, obviously. And then conversely, offensively, a lot of pride goes into protecting the football. We've got to make sure we take care of it."
On the complexity of Arizona's defense:
"We have to prepare for the different looks, and they have a lot of different looks. They have four-down packages, they have three-down, two-down, they're all over the joint. They've got linebackers, defensive backs, they have dime packages, they have a lot of different sub packages, a lot of different ways to bring pressure, so identification for our center is very important. Our quarterback communication is very important. That just goes out here. We've just got to go out here, see all the looks and practice them and rep them and make sure we know who our hot players are, who's going to make us throw it quick and figure out the best ways to protect so we give our quarterback time. It is a different team than Seattle. Seattle wasn't simple by any stretch, but from a lot of different looks perspective, they are different."
On if Will Compton would play in place of Perry Riley, Jr. if Riley, Jr. cannot play:
"Yes, it would be Will Compton. He got all the reps today, did a good job. Will is more than ready to go. Hopefully Perry gets well. If not, we have that position covered. We have Akeem Jordan also who can step up and play, so we're OK at that spot if Perry can't go. We want him to go, but we'll see how he does."
On quarterback Kirk Cousins taking more deep shots against Seattle and if they were a function of his confidence or of play calling:
"A little bit of both, and I think he felt a little more confident in the pocket. There was a couple of looks where they did have pressure, we had to unload it a little bit quicker than he wanted to, but as the game went on, I think he felt a little bit more confident in the pocket in our protection and was able to let some balls loose. Overall, I think that just comes with the territory, playing and getting a feel of the pressure and understanding that each route, each pass play, is different, its own entity. Some plays you can stay in there a little bit longer and find your second, third receivers or wait for a guy to clear on a deep cross or shallow cross. Sometimes you've got to hurry up and get it out to your quick element. So that just comes with a feel and understanding pass rush and the situation."
On if he wants to see more punt returns from Andre Roberts:
"I think there was really maybe one case where he might have been able to return it, maybe, against the Giants I think he had one. Last week he didn't really have any chances. Their punter was getting a lot of trajectory on the ball and their cover guys were doing an outstanding job of beating our guys on the outside. So it was a combination, and a lot of times, they were in a safe punt where the punt was just high and they were trying to get it inside the 10, and you can't return those balls. We didn't really get Seattle backed up where we could get a good return last week. Most of those punts were of the safe variety so they were very hard to return, but I think he's doing a fine job back there, Andre – both kickoff and punt."
On what he learned about preparing on short weeks from Week 4:
"We just have to speed up the process. You've got to come in a little bit earlier, stay a little bit later and try to condense your terminology down a little bit, maybe not be so extravagant with all the plays that you have. Maybe tighten the screws down a little bit, be a little bit more simpler with your attack. In the meantime, you still want to challenge your guys and try to attack Arizona's defense and try to guard against their offense. They have a lot of different looks offensively as well as defensively with four- or five-wide receiver sets and empties. They run good power plays and they're all over the board. So we still have to get our guys prepared but just in a condensed version it takes a little bit more time, but I think our guys – all of our coaches have been in a situation where they've done short weeks, long weeks, so we're pretty well-groomed at all of that."
On if he was pleased with the responses he heard about the locker room following the game:
"Yeah, I think we're taking a couple players out of context, maybe, and trying to group a whole group of men together with a couple of instances, for instance. I know the type of guys in question that were in question that I read about, I went back and watched them on tape and there was no doubt in my mind that they played their ass off on every snap of the game. One of them was playing on a sore knee and blocked his butt off, was running around all over the joint and his effort in the game and his desire to win, I will never question it. So I don't really have a problem with it and I don't see a problem with it."
On preparing for three different quarterbacks:
"I think you have to go based on what they've been doing. I think their offense is not going to change a whole lot. They might condense it down a little bit if it's their third quarterback or second quarterback, but I think with Drew [Stanton], I think that he can do everything that Carson [Palmer] can do. Carson is obviously their starter and they felt really high about Carson going into the season but they obviously felt good about Drew and he has won some games. I don't think they really tapered back offensively. They've done just as much. We expect a similar type of attack and approach that they have had every game."
On how he identifies the problem with third down success rate and Pierre Garçon's involvement in offense:
"Third downs, we are working hard. Every third down is different obviously. Sometimes you get man, sometimes you get zone, sometimes you get heavy pressure and every play is its own entity. Sometimes we are running it on third-and-1 and we don't get it. But we've just got to do a better job. We tried to make it a focal point out here today with a couple big periods and work our different pass concepts and our run calls that we are going to call on third down and just try to hone in on our approach – what we are going to call so that the quarterback and the linemen and the wide receivers are very comfortable and know exactly what is going to come when we have those situations. So, we know where to go with the ball if it is Cover 2, Cover 3, man-to-man, if it is pressure, understanding the protections. That just comes with experience and work and we are going to get that done. As far as Pierre's concerned, sometimes it is like that in offensive football. Sometimes a good player doesn't get as many targets as you would think he should. Unfortunately, that was the case last week. They didn't really do anything different, they played a lot of man-to-man, they played their single-high zone. It is just when they play their single-high zone and he's running a vertical route, sometimes they drop a guy underneath him and they've got the corner on top of him for all the deep stuff so it is harder to get him the ball. But when we did have man, we either went to the back on their man options or could have been to DeSean [Jackson]. Just the way it went. I think Pierre is going to be a major part of this offense moving forward. I know he is probably frustrated a little bit but that is just the nature of the beast, man. You just have to keep fighting and keep working and he will get his touches."
On having two pass catching tight ends in Niles Paul and Jordan Reed:
"It adds a lot. Anytime you add a pass catcher like Jordan Reed – you know, he also can do some blocking too in our zone running game and our three-wide receiver sets he can do some blocking. Jordan is a major part of our offense and what we wanted to do from training camp on, and when we lost him in the first quarter of the Houston game, it put a little hurting on us. So to get him back, if we do get him back, it is a great option for us because he can win against linebackers and safeties. Then to pair him with Niles, like you said, in two-tight end sets, if they stay in their base people, safety gets one of them and one of them gets paired up with a linebacker if they want to play them man-to-man. Two good matchups, then you throw DeSean and Pierre out there, it is a dream scenario. But then when you go three wide receivers and one tight end, you bring Andre in there, you have pretty good matchups across the board, it is just a matter of protection and having Kirk find him and guys working the pass concepts and getting open."
On quarterback Robert Griffin III's rehab:
"He's just working with the trainers right now. There's no update to give, really. He's doing what he can, he's taking it day-by-day and trying to get stronger and that's all I can say. I don't have any idea as far as a timetable is concerned. I know that once he feels like he can start to run and start to practice then we'll slowly install him, but it'll be at least a week or two of good full practice before he gets back on the field. He's going to need the reps and get back on with the offense."
On what the proper reaction in locker rooms should be:the
"I don't know how I should tell anybody how to react. Everybody is going to react differently when they see different things. I know after that game, I looked at everybody in the eye when I had the group talk after the game and I know that everybody was dejected. I know that. Everybody was sick after they lost. They put a lot of effort into that game and every goal was to win that game and we thought we should win that game and we didn't and guys were upset. What happened an hour and a half after a shower when people cooled down a little bit is what happened. But I don't know how you guys should react to somebody telling a joke and laughing or what have you, but I know that everybody is very competitive, everybody wants to win around here, everybody's No. 1 objective is to win, and we're going to do everything we can to win, whether they crack a joke two hours after a game or not."
On if smaller, more athletic linemen are still able to get a push in short-yardage situations:
"I think the first third-down-and-1, it was a quarterback sneak and I think Kirk wished he had that one back. I think Kirk buried his head too quickly and just went down. If he had kept his feet moving, he would have got it easily. The second one was on me. It was a bad, terrible call by me. It was just totally my fault. I took that responsibility today. It was a terrible call – terrible, I hate it. We've gotten some third-and-1s, we've been able to run the fullback dives quite a bit, we've been able to run the up-the-middle with Alfred, we've been able to run the outsides and we've actually ben fairly good on third-and-1, I think, before this. It is a tough down. You know, you get some big defensive linemen in there and they're crashing into gaps and they hope you bounce it and their linebackers are fast-flowing over the top. That's why we've got to mix in the play-action like we did against Jacksonville one time and mix in maybe some outsides, some insides. So really, really not an easy down. You think one yard is easy to get in the NFL, but it's very difficult, but I think we do have the manpower with [Shawn] Lauvao, Trent Williams – Kory is doing a nice job in there – obviously, [Chris] Chester is a veteran guy. I think they know how to get angles and know how to get the push and they can."
On tackle Tyler Polumbus' finger:
"I think he's OK. He got taped up and came back and played. Yeah, he came back and played and he's going to be OK. He's tough and he'll be ready to go."
Quarterback Kirk Cousins
On his evaluation of Monday's performance:
"I didn't like that we lost. I think we avoided negative plays. There weren't a lot of sacks, there were no turnovers. That's a positive, but when you lose you lose and that is all matters in this league."
On what has to happen to be more successful on third down:
"It's a collective effort. The whole deal, we've got to all be on the same page – receivers, linemen, running backs, quarterback, we've just got to all be firing and understanding our role. If we each do our individual job and are on the same page, the coaches are putting together good schemes that are going to give us a chance to be successful. But that is definitely an area where I think we can be better."
On how much defenses change when the offense is facing third down:
"Every defense is different, the way a defensive coordinator's philosophy is on third down, what they are going to do and if they are going to pressure or change their coverage or be very basic and stay the way they are going to stay. But obviously you get into third-and-long, third-and-medium, defensive linemen are able to anticipate pass and pin their ears back and rush in a different way than they may on first or second down."
On if he does anything different as a leader from now on and his thoughts are on the locker room last week:
"Yeah, I will answer your first question first. As a leader, you just stay positive, set a great example, try to motivate your teammates the best way possible, try to influence guys to hopefully raise their level of play. But I don't think my approach to leadership or how I am going to lead is going to change whether we are on a three-game losing streak, a three-game winning streak. If I start to change who I am as a person – as a leader – based on conditions around me, that doesn't make for a very good leader. I think I need to be steady no matter what is going on. Your second question, I didn't see anything of that nature after the game. I thought that all of us were very frustrated with the loss and have been frustrated with the losing streak you mentioned. It's just important to now focus on Arizona and get a win."
On if he is more conscious about making big plays down the field now:
"I think it all comes down to the situation of the game, the play calling, the coverages they are playing, the matchups we have. All of that affects when the ball goes down the field, when the ball goes into Alfred Morris' hands, when it goes to someone else. That is all affected by a lot of different factors. But yeah, we dialed up a couple deeper throws and we hit them. It says a lot about DeSean [Jackson] and about our play calling being able to get things schemed up in the right way to where we can get guys open downfield. That is not easy to do."
On what makes Andre Roberts a reliable receiver:
"Andre is a total professional. He works very hard, he is very intelligent, he understands his role, he understands the details of route running, he knows how to get open and he doesn't have a big weakness. He has great hands, he's got good speed, he can beat guys over the top, he can win versus zone coverage. He is a guy you have a lot of confidence in because you feel like he is very versatile as a receiver."
On how frustrating it is to have only one win as a starter:
"Yeah, it is important. At the end of the day in this league it's about winning – winning the division, getting into the playoffs, winning in the playoffs. That is something that we are trying to do here and we need to improve obviously. There's places where we are coming up short and when you play this game in this league, the other team is very good, too. And so every time you go out there you have to bring your highest level and the margin for error is very, very small. We have to understand that in our approach day-to-day, week-to-week, just really be attentive to the details and attentive in our preparation to make sure that all bases are covered so that margin of error goes our way."
On if it is fair to be graded on wins:
"I don't know what's fair or not fair. I don't know if that is for me to say. I just think that at the end of the day it is my job as a quarterback to help this team win. And there is a lot of other statistics and things you can look at to evaluate players' performances, but I don't think it is my place to say what's fair and not fair. I just know that I need to go out there and help this team win."
On if he feels extra pressure as quarterback when team falls behind and they have to throw:
"No, it is just a part of playing the quarterback position. You are going to get behind at times, you are going to be ahead at other times and all of that is going to affect play calling and you don't expect every game to go the perfect way and completely have a 50-50 balance throughout the entire game all season long. So, we are well prepared and have worked very hard to be able and react to whatever situation happens and if we have to throw it to get back in the game then that is the job we have to do."
On similarities between Cardinals cornerback Patrick Peterson and Seahawks cornerback Richard Sherman:
"I think you start with the similarities that they are both very good, both very highly paid. Talented players, guys you've got to think about and know where they are and have an awareness of what they can do. I think Patrick is just an unbelievable athlete, was a high pick for a reason and has proved it every year in Arizona, and it will be a fun challenge for our receivers and a fun challenge for our offense and our passing game to go against a player of his caliber."
On if his leadership style is affected by his belief that this is quarterback Robert Griffin III's team:
"I think I am doing it every bit as much as I would regardless of the circumstances. I think I am leading the way I would lead and taking charge and doing all I can. It hasn't shown up in the win column yet but I am going to keep working and keep preparing and keep learning and keeping getting better and I think we have got better days ahead coming soon."
On if teams are doing something to take wide receiver Pierre Garçon out of games:
"I don't know that anything has been too different. I think you just go where your reads take you and some games – for 17 straight games – whatever the stat was – it may have taken us to Pierre five or more times. Every week it is going to change and he is a great player. If teams are very concerned about him it is going to open the door for a lot of other guys, it is going to make my job as a quarterback much easier. So, he has been doing a great job for us and we have total confidence in him. I would love to have every guy on the team with five-plus catches every game but there are only so many plays to be run and it is going to change from week-to-week."
On Arizona's blitzes and how he has progressed when facing the blitz:
"They do a great job of pressuring and using confusion and complexity and that is something that we need to be prepared for this week. Iit comes down to scheme and preparation and everybody being on the same page with offensive lineman, the center, the running backs. There is a lot of different pieces that come together to pass protect and understand where we are going and it starts with me and IDing things. So, that is an area I believe I have improved in quite a bit since coming into the league and I am sure there is still a lot more room to grow. But it will be a good challenge for us seeing that kind of pressure."
UVA Basketball Fans!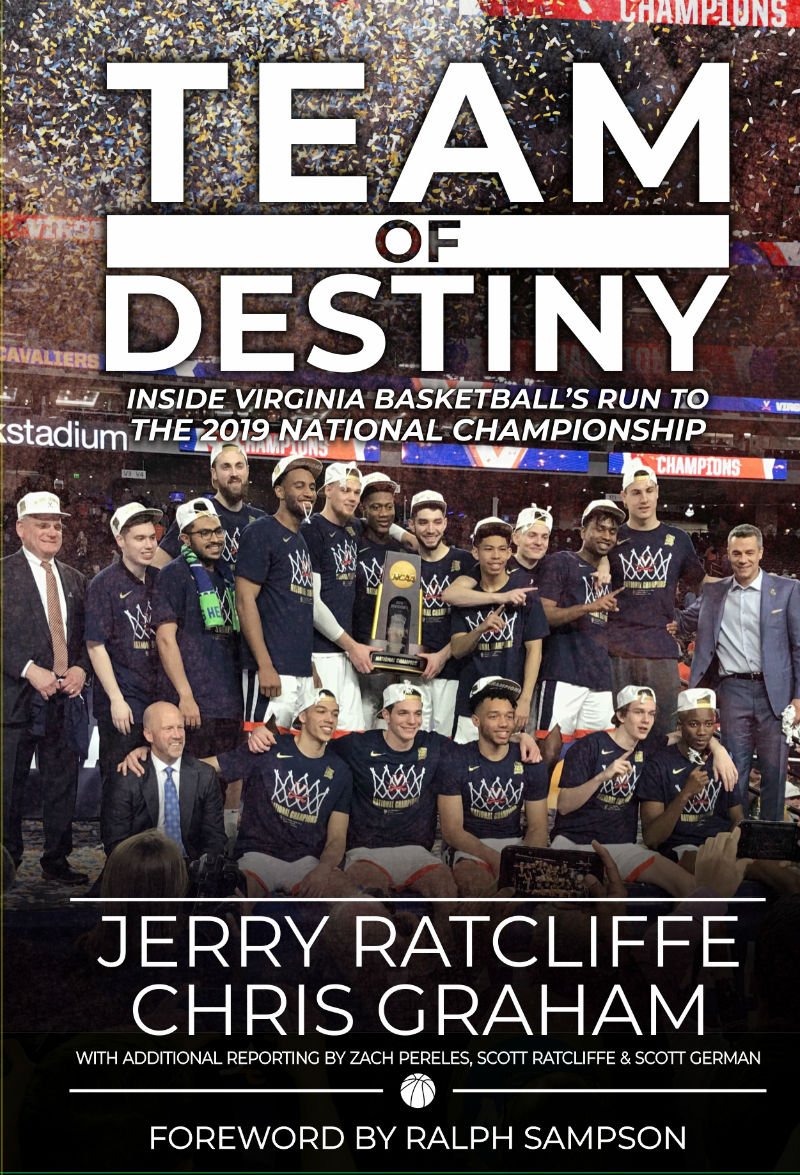 Team of Destiny: Inside Virginia Basketball's Run to the 2019 National Championship
, by Jerry Ratcliffe and Chris Graham, is available for $25. The book, with additional reporting by Zach Pereles, Scott Ratcliffe, and Scott German, will take you from the aftermath of the stunning first-round loss to UMBC in 2018 through to the thrilling overtime win over Texas Tech to win the 2019 national title, the first in school history.
Dick Vitale on Team of Destiny:
"This is a hoops story you will LOVE! Jerry and Chris capture the sensational and dramatic championship journey by Tony Bennett and his tenacious Cavalier team. UVA was Awesome Baby and so is this book!"
Ralph Sampson on Team of Destiny:
"Jerry and Chris have lived and seen it all, even before my time. I highly recommend this book to every basketball fan across the globe. This story translates to all who know defeat and how to overcome it!"
Feedback from buyers:
"Got the Book in the Mail Saturday, and could not put it down! Great read and great photography as well! Love all of the books I've received, but hands down, this is my favorite!" – Russell
Buy here.
Comments