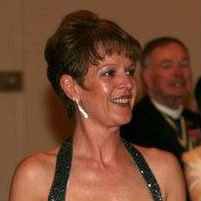 Column by Linda R. Jones
This week was my 55th birthday.  It was my first birthday since my father died.  He was always the first one to wish me a happy birthday.  I woke up at 6 in the morning.  My first thoughts were that I wasn't going to get that early phone call.  I wanted the phone to ring.  I waited for a call that would never come.
I sat in my kitchen with my morning coffee and reminisced about the birthdays throughout my life.  During my childhood, my father would flip on my bedroom light before he went to work and wish me a happy birthday.  I would get annoyed being woken from my slumber and then he would chuckle and say, "and now go back to sleep."  In my adult years, again, he was the first to call and very early at that.  I know he did it on purpose and even then I got a little annoyed.  Always with that chuckle, "Happy Birthday and now go back to sleep."  This year I realized I anticipated all those early birthday phone calls and missed them.
Throughout the day I was sent birthday messages on Facebook, e-mails, phone calls, and texts.  I received one text from a family member that broke me: "Happy Birthday, Linda!  Hope you have a great day.  It's your first birthday without your Pop.  Remember all the years that he did call and cherish those memories.  Time will ease the pain but never take it away." I sobbed for a few hours.  I tried to get myself together but it took most of the afternoon.  During those hours I tried to distract myself but kept thinking about one year when my father visited me from Florida.  It was my 50th birthday.  For some reason, we were alone in my home after dinner.  We sat in the kitchen because my father said the dining room chairs were too comfortable and he might fall asleep.  I made myself an apple martini and my father said, "Hey.  That's looks pretty good."
"Oh geez, Pop!  I'm sorry.  I thought you could only have wine since your open heart surgery."
So, the two of us sat at my kitchen table drinking martinis, snacking on salami and cheese, and reminiscing about our family in Germany.  The stories flowed and my father and I would laugh.  We would laugh so hard we'd have to catch our breath.  Then we started singing German songs, tell a few more stories, laugh, and drink a little more.  My German improved greatly throughout the night.  It was a great memory.  It made me smile and chuckle a few times when I thought about that evening.
My husband and daughter indulged me, more than usual, this year.  They knew it was going to be a rough day for me.  They made a great dinner and had flowers, a few gifts, and a cake for me in the dining room.  I remembered thinking about my father and those dining room chairs.  He was right.  Those chairs are almost too comfortable.
It was a lovely birthday evening.  I didn't feel sad.  I opened my daughter's gift last.  There was my father, in a picture on a scrapbook, standing in front of his bar smiling and laughing, the way I like to remember him.  I cried happy tears.
My daughter is an excellent support unit.  While I was crying happy tears, she showed me the various scrapbook colors we could use for my father's pictures.  She said she picked our (my father's and my) favorite colors; various shades of purple.  The inscription on the scrapbook is "Memories."
In place of a phone call from my father, my daughter gave me something different, precious, yet equally as important.  Memories.
My healing journey continues.  Join me.  We can exchange birthday stories and memories.  Wonderful memories to help us through the rough days.
(Henry Alfred Rudolph.  Born April 2, 1930.  Died March 2, 2015.)