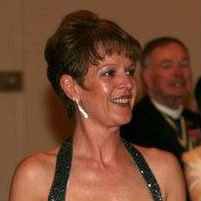 Column by Linda R. Jones
The five stages of grief include denial.  Always with these five stages.  It's more like a never-ending roller coaster ride of every emotion and everyone follows a different track of grieving.
Like bargaining, I thought denial was illogical and absurd and I certainly wouldn't have to deal with that.  My father was one month shy of his 85th birthday when he died.  He did have a good and long life.  He survived war-ravaged Germany, became a successful businessman in the United States, and retired at 62 on the beaches of Florida.  He had two children, five grandchildren, and one great-granddaughter.  His health was always solid.  Even two open-heart surgeries couldn't bring down this bull of a man.  He traveled the world.  He was game for anything new.  My father had presence.  He was that guy that always had a joke, a song, and a dance.  He was that guy you always remembered.  He was the life of the party, he was the party, and he made every day a party.  He was "wine, women, and song."
Why would I deny his death?
My father could sing.  I mean "bring the house down" sing.  He was a baritone and I especially loved when he and my son (a tenor) would sing together at Christmas.  My father could sing the classics in Italian.  I was looking forward to playing the piano and having my father sing along.  I had been practicing.  It would have been yet another wonderful memory.  It never happened.
When my father's remains arrived, I put away all of my sheet music, closed the piano lid, and packed up my accordion.  Yes, accordion.  The most uncool instrument to learn during the 1960s and 1970s, but as the daughter of a German immigrant I learned to play it.  Now, I'm glad I did.  I learned to read music and learning piano was much easier because of it. So, here were the ashes of my father in my parlor.  His death certificate was also in the packaging.  My father always joked that he didn't want us to buy an expensive urn.  He told us to put him in a cigar box.  My husband made a wood box and wood-burned my father's name onto it.  I happened to have a basket and the box rested peacefully in there.  It was close enough to a cigar box.  I set up the parlor for family and friends that would arrive and, little did I know, denial was about to arrive as well.
My husband asked me why I put all my sheet music away and why I wasn't playing the piano anymore.  I cried.  I kept thinking if the sheet music is away, the piano lid closed, and my accordion packed up then my father will come barging into my house and start singing.  I pictured him giving me that intense German look and asking, in his thick German accent, "Well? What are we waiting for?  Let's get this party going!"  I was denied a potential memory of having my father sing while I played either the piano or accordion.  Denial.  There it was.
For an encore, I did anger.  I kept screaming, "I'll never hear my father sing again!  I'll never be able to accompany his singing with piano.  He'll never sing again!  Why?!  Why?! It's not fair!  It's just not fair!"  It certainly isn't, but that's how it is.  I will not hear my father sing anymore.  To honor him, I could take out my sheet music, open the piano lid, and bring out that now very cool accordion.  I could play music and continue creating memories.  I could remember hearing my father sing.
My healing journey continues.  Join me.  We can sing together, but it doesn't have to be in Italian.  I'll certainly smile if you do.  We're not alone.
(Henry Alfred Rudolph.  Born April 2, 1930.  Died March 2, 2015.)