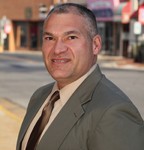 Story by Chris Graham
Tim Williams is young for a city mayor at 43. But Williams, entering his second year as mayor of Waynesboro, has nine years of experience in city government under his belt dating back to his term on the Waynesboro School Board.
That makes him the grizzled veteran of the young mayors trio in the Charlottesville-Greater Augusta-Harrisonburg area.
"And that experience can be a big help," said Williams, who was re-elected to Waynesboro City Council last year and was sworn in as the new mayor in the River City on July 1, 2008. 
It's not that Williams, Charlottesville Mayor Dave Norris, 39, or Harrisonburg Mayor Kai Degner, a babyfaced 28, are CEO mayors like Michael Bloomberg in New York who run the day-to-day operations of their city governments. Waynesboro, Charlottesville and Harrisonburg all use a city-manager form of local government where the city manager is effectively the CEO of city government and the mayor is the titular head of the city council, and that's basically it as far as the duties and responsibilities go.
That said, the job carries with it a certain cachet even without the trappings.
"There are ceremonial aspects to the job in terms of ribbon-cuttings and going to a wide variety of community events and being the face of the city in the eyes of the public and the eyes of community groups," said Norris, who as Charlottesville mayor is also the unofficial-official greeter at conferences and meetings held in Charlottesville by regional and state associations as well.
A bigger role is a behind-the-scenes one – in determining the agenda for City Council meetings. "That's a pretty significant role, because it gives me the chance to get some issues on the table that I believe need some attention and some focus," said Norris, who has served as mayor since January 2008, and is running for re-election to Charlottesville City Council this fall.
"My background is as a community activist. That's why I ran for City Council," Norris said. "I think we've been able to deal with some issues as a City Council that previous City Councils didn't deal with. I'd like to think I've played a part in that by bringing issues to the city's attention."
Degner also came from a community-activist background to city politics in Harrisonburg. A James Madison University graduate and founder of the community discussion-focused OrangeBand Initiative who now works at the Community Mediation Center, a nonprofit that focuses on approaches to facilitating public dialogue, Degner's campaign platform was "to get people involved, to get people more connected and engaged," Degner said.
One way Degner does that, also utilized by Norris in Charlottesville, is through the Internet. Degner uses his personal website WhyKai.com to provide city residents with information on City Council activities and importantly to share the reasoning behind his votes on issues of the day coming before the city.
"There are many, many valid points out there. There's a lot of good information out there. And there are a lot of competing value sets out there. And often the decision comes down on a contentious issue to, OK, we all have the same facts and the same numbers. We might interpret them differently, but the judgment will come on which values are you prioritizing in that particular moment?" Degner said.
"If I can show on the blog, here's what I considered, here's why I voted the way I did, that's what people really are wanting in understanding how their public officials are working. It's not, Do you understand the facts? It's, In crunch time, what do you value over something else?" Degner said.
Williams feels age plays a role in determining those value sets that are used to guide decisions. "Being a young mayor, I still have two teenage boys in the local schools, and having kids in the schools, and knowing that almost half of our local taxes goes to our school system, I think that's an advantage to have that perspective in the mayor's job," Williams said. "I think as a taxpayer that we're getting a great deal in Waynesboro. We have a great asset in our schools. And I think it's important to have that perspective represented on Council and in the mayor."
Williams, who owns and operates a small business, Choice Meats, brings another perspective to Waynesboro City Council as a small businessman. But having to balance family and business responsibilities with his mayoral duties can be a challenge. "Council has been wonderful making sure that we have a presence at these ceremonies and events when I can't attend them. That's a disadvantage to being a young, working mayor. I knew that would be my biggest challenge coming in as mayor, and it has been," Williams said.
"It's one of those jobs that you can put as much time into it as you want. It could easily swallow up 40 hours a week if you let it. And you can't live on the mayor's salary, so I have to work a day job, and raise two kids, on top of being mayor. So it's a lot of work, but so far I've been able to juggle all the balls in the air OK, and hopefully not drop too many of them," Norris said..
"The biggest thing for me is that you've got to keep in mind that you can't say you'll do everything, but you should do everything you say," Degner said. "I control the words that come out of my mouth, and if I get in trouble because I've overcommitted my time or because I say something that I can deliver on that I thought I could but can't, that's on me. That's my responsibility. That makes me careful what I commit to."
Another reason to be careful – when you're mayor, you're always in the public eye, even when you don't think necessarily that you are.
"I figured there were a few political junkies who knew who the mayor was, but there seems to be more who are aware of the mayor than who are not. That's maybe the biggest surprise for me. A pleasant surprise. Because for the most part, people are complimentary and very supportive," Williams said.