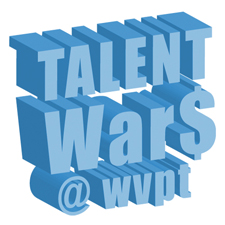 WVPT congratulates Kevin Camden of Charlottesville as the winner of its Fender Telecaster electric guitar giveaway.
Kevin Camden, an IT specialist at the University of Virginia, was automatically entered in the guitar drawing after he signed up as a contestant in TALENTWAR$, the station's first online video talent contest and fundraiser. TALENTWAR$, offering $6,000 in cash prizes, is ongoing until Jan. 3, after which the winners will be announced.
"It still hasn't hit me yet," said Camden, who submitted two videos of his 2-year-old daughter singing and dancing and another of him covering Lynyrd Skynyrd's "Simple Man" on acoustic guitar. "I've played for about 15 years and I have a couple guitars, but not a Fender Telecaster!"
While he admits the cash prizes are attractive, Camden said his primary interest lies in raising money for WVPT.
"The videos I posted weren't to show off my talent, but to support the station and generate funds with the help of my family and friends," he said. "My plan is to match whatever they can donate."
"TALENTWAR$ is one creative way that WVPT is responding to try and make up for hundreds of thousands of dollars in state funding cuts this year," said David Mullins, president and general manager of WVPT. "This unique competition that harnesses the power of social media is away to spotlight the talents of our viewers and provide a fun way for people to support WVPT."
Viewers are encouraged to visit the secure website, talentwars.wvpt.net, to upload their own video or vote for their favorites through Jan. 3. Anyone can view the videos, select their favorite and "vote" for the video by making a donation to WVPT via the website.  Every dollar "donated" equals one "vote" for the video. The three participants with the most $1 "votes" by the conclusion of the contest will win a first place award of $3,000, a second place award of $2,000 and a third place award of $1,000.
Currently,more than 30 contestants have uploaded their talent videos, from live performances and music videos to animated shorts.
To enter TALENT WAR$ or view current entries, visit talentwars.wvpt.net.