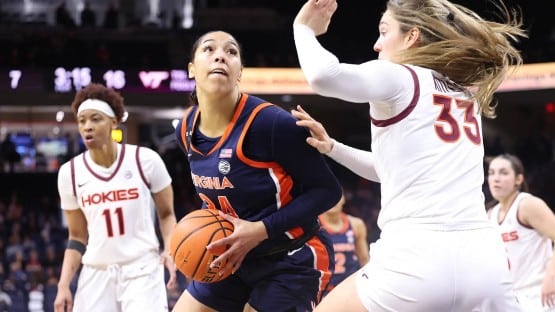 Virginia cut a double-digit deficit to four in the fourth quarter, but that was as close as the 'Hoos would get in a 72-60 loss to #12 Virginia Tech on Sunday at JPJ.
UVA (14-8, 3-8 ACC) had already rallied once in the game, narrowing what had been a 15-point first-half margin to six at the break.
Tech (17-4, 7-4 ACC) then built up a 13-point lead in the third, with the Cavaliers chipping it down to a four-point deficit with six minutes left in the game.
An 8-0 Hokie run helped the visitors hold on.
Camryn Taylor had her second-straight 20-point performance, leading the Cavaliers with 22 points. London Clarkson scored 15.
Taylor Valladay led the team with six rebounds while adding nine points and four assists.
Kayana Traylor led the Hokies with 25 points. Elizabeth Kitley scored 16 points with seven rebounds and four blocked shots.
"Sorry to the fans that we couldn't close this game out on our home court, but the first quarter and moving into the beginning of the second quarter kind of killed us," UVA coach Amaka Agugua-Hamilton said. "We punched early, they punched back, and we just didn't respond for a little bit. We had a couple of defensive lapses and things like that that didn't go our way. We've got to continue to build, it's a process, and this is the building process, and we'll get better."