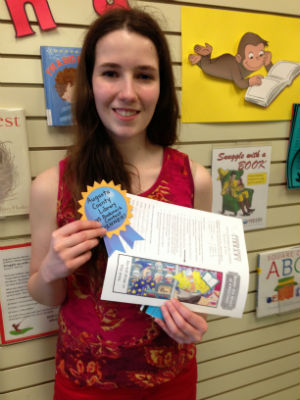 Augusta County Library is currently displaying the winners of its annual bookmark design contest at the Fishersville Library. The libraries received over 100 entries illustrating the theme "Books Are Made of AWESOME! from children ages birth to grade 12.
Winner include Ceci Martino of Stuarts Draft for  age 4 and under, Rigdon Wright of Mount Sidney for kindergarten to grade two, Kaili Wheeler of Fishersville for grades three to five, Emma Hunter of Fishersville for grades six to eight, and Olivia Hathaway of Spottswood for grades nine to ten.
All bookmarks feature original art work, whether computer generated or hand-drawn. Judges reviewed the entries for creativity, quality of art, adherence to the contest guidelines and illustration of the theme "books are made of awesome."
Robin Post, a library staff member who served as one of the judges, notes, "This year's winners include artwork created with crayons and colored pencils.  Other participants used ink, watercolors or plain pencil.  It was a pleasure to see how this program stimulated the children's creativity."
The library holds the bookmark contest each year to promote reading and the library. After judging, the entries are distributed to children who visit the library for use as an actual bookmark.
For additional information, contact the library at 540-885-3961 or 540-949-6354 or visitwww.AugustaCountyLibrary.org.  The Fishersville Library is located at 1759 Jefferson Hwy. in Fishersville.