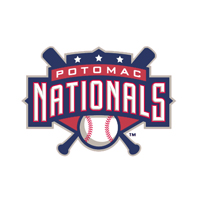 One night after clinching a second-half Northern Division title, the Potomac Nationals (75-56, 37-25) were blanked by the Wilmington Blue Rocks (63-69, 30-34) 8-0 on Thursday night at Frawley Stadium.
Potomac was shut out for the seventh time in 2014 despite P-Nats starter, LHP Hector Silvestre tossing 5.0 scoreless frames in which he allowed just three hits (all singles). Silvestre did not receive a decision.
The Nationals' loss broke up a string of 10 consecutive road triumphs.
The red, white, and blue managed just five base hits and committed a pair of errors in the field.
Blue Rocks hurler, LHP Jonathan Dziedzic (6-7) gunned through 6.0 scoreless stanzas while surrendering five hits but no walks. Dziedzic tied his season-high with eight strikeouts. in addition to inducing four groundouts and three flyouts. The southpaw threw 95 pitches and 57 for strikes en route to his sixth win.
There was no score in this series Game Four contest until Wilmington plated two runs in the 6th inning off the losing pitcher, P-Nats RHP Travis Henke (4-2) via an RBI double to left field ripped by CF Brett Eiber to drive home the triple of SS Raul Mondesi. Blue Rocks 1B Frank Schwindel added an RBI tattooed into right field.
An inning later against Henke, Wilmington 2B Jack Lopez dumped a broken-bat RBI single into center field and C Zane Evans cranked a two-run double to the alleyway in left-center field to put the Blue Rocks on top 5-0.
Nationals RHP Cody Davis gave up three runs in the 8th which yielded his roughest P-Nats outing of the season. Wilmington RF Daniel Rockett singled into left field to deliver DH Cam Gallagher, who rapped a one-base knock to get aboard, before an RBI fielder's choice towards Potomac 3B Khayyan Norfork from Lopez resulted in an E5 throwing error unleashed towards home plate by Norfork. A wild pitch from Davis allowed 3B Ramon Torres to come home. Torres reached on a base-on-balls.
Henke, who took his second loss, and Davis combined to allow eight earned runs on 11 hits, two walks, and two wild offerings in 3.0 innings.
Blue Rocks RHP Andrew Edwards (SV 1) was awarded a save regardless of the lopsided score because he finished the game with three innings out of the bullpen.
Edwards fanned three and walked a pair but allowed no hits in 3.0 innings in which he did not allow a run. Edwards retired the side in order in the 9th to finish Wilmington's shutout victory.
On Judy Johnson Field, the Game Five series finale will be played on Friday night at 7:05pm. Nationals RHP Ian Dickson (5-8, 4.54) clashes against Blue Rocks LHP Sean Manaea (6-8, 3.30).
The Potomac Nationals Baseball Network, accessible by heading online to www.potomacnationals.com, will provide live broadcast coverage of the series finale tomorrow evening in Wilmington, VA beginning with the P-Nats Leadoff Show at 6:50pm before the play-by-play at 7:05pm.