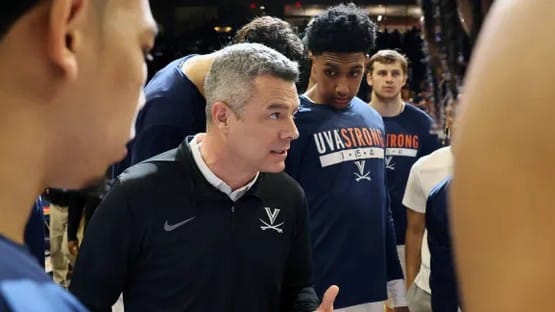 Virginia coach Tony Bennett has been sharpening his skills as a video editor lately. Getting ready on short notice for a first-round NCAA Tournament game is an all-hands-on-deck kind of thing.
"I've actually gotten better. I'm pretty good. I'm not like my father or some of the other coaches," Bennett joked with reporters at a Monday presser.
The head coach relies on Johnny Carpenter, the staff's director of player personnel, to slice and dice Hudl Sportscode and Synergy clips into digestible bits that help give insight into what, for instance, Furman, Virginia's first-round opponent, likes to do, and how they go about doing what they do.
The staff had to put itself on a crash course to learn everything it can about Furman (27-7), the SoCon champ, on the heels of back-to-back-to-back late nights in Greensboro at the ACC Tournament.
"Scouting has become pretty darn advanced, and you have so much access from the days when you used two tape decks, and you're cutting tape, and that doesn't even exist anymore," Bennett said. "But, you know, you find certainly how they guard certain actions, what they do against certain actions, so you're looking at similarities, you know, teams they played in your league or stuff like that. So, it's all of the above, it really is.
"I don't know if there's enough hours in the day to watch everything, but you certainly get a good idea. And that's why seeing how they've executed offensively and defensively, you know, catches your attention, and they know what they're doing," said Bennett, whose team faces Furman on Thursday at 12:40 p.m. ET in Orlando, in one of the opening games of the first day of the tournament's first round.
Furman, coached by Bob Richey, who has won 20+ games in five of his six seasons at the school, is built this year around SoCon player of the year Jalen Slawson, a 6'7" power forward who does a little bit of everything for the Paladins – averaging 15.7 points, 7.1 rebounds and 3.2 assists per game, shooting 55.6 percent from the floor and 39.4 percent from three-point range.
"He's just good, you know, he's mature, and he's a complete offensive player and very competitive, you know, at his size and length. He can shoot the three, put it on the floor, pass as well, and you just look at complete guys, and their five can shoot it as well," Bennett said, referring to Garrett Hien, a 6'9" junior, who is averaging a modest 8.0 points per game, but shoots 54.0 percent from the floor and 36.6 percent from three-point range.
The Paladins like to shoot the three – they average 9.5 makes per game, ranking 20th nationally, on 27.5 attempts per game, 11th nationally.
The leading scorer is 6'3" two guard Mike Bothwell (18.0 ppg, 3.5 rebs/g, 3.0 assists/g, 51.9% FG, 33.8% 3FG). His backcourt mate, 6'1" point guard JP Pegues (12.0 ppg, 4.0 assists/g, 42.3% FG, 34.9% 3FG), is a speedy, tough guard.
Marcus Foster, a 6'4" guard, averages 10.6 points per game, and shoots 42.6 percent from the floor and 36.4 percent from long-range – think: Armaan Franklin.
What Bennett has learned in his crash course on Furman basketball is that they're good.
"The more you watch a team, you get a feel for them, and there's a reason why they've been so good for so many years," Bennett said. "That program has been established, and they really play the right way. They're a veteran team, player of the year and the league leading scorer in the conference, first team, they have a very good point guard, four guards, they can get it down the floor, shoot it well, but run good stuff and play hard defensively. And, you know, again, with a couple guys, I think a couple guys came back for their fifth year, they're a veteran team, and they just, they they've played well, and you can see it and there.
"You get to this NCAA Tournament, there's so many good teams, I think, as the years go on, the teams get better, as we talked about, because of the transfer rule and even at the fifth year and all that stuff, and they do a lot of good stuff. And so, they'll challenge you in a lot of ways. So just, respect grew watching them and knew that going into it, but you can see why they've been successful, not just this year, over the years," Bennett said.