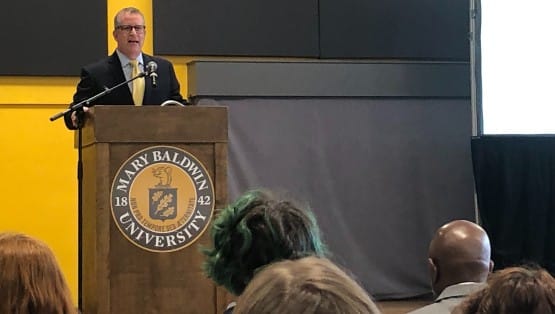 Last Wednesday, the 10th president of Mary Baldwin University welcomed the Class of 2027.
"There is a reason that Mary Baldwin is set on a hill," said Dr. Jeff Stein, who has something in common with this year's freshman class: they are both new to campus.
Stein said that MBU's students are always rising.
"For 182 years, this institution has shown courage to endeavor for what is right and equitable, to educate, to fight for those who need it, and to provide access to an education that transforms lives," Stein said.
The MBU community stands up for what is right and for each other. "We are fiercely inclusive," Stein said. "We believe in the power of ideas and this community to change the world."
"Be all in for Mary Baldwin," Stein challenged the youth. He said he would like to start a new tradition at MBU: "We are all in this together."
He said the students did not come to college to repeat what they did for the last 18 years of their lives. He encouraged them to let their dreams guide them and to grow with their college experience while also imagining their futures.
"Those most successful in college are those who make connections," Stein said.
He encouraged students to reach out for help. Connections, teams and support networks fuel success at college.
MBU's VP of Student Engagement Dr. Ernest Jeffries began his speech by taking a selfie with the Class of 2027.
"We just made a memory," he said. "And I want you all to remember this moment, because the reality and certainty of this moment is it will never happen again."
He encouraged the students to accomplish five tasks at MBU: stay curious and open minded, connect with resources, build relationships, manage time wisely and stay motivated.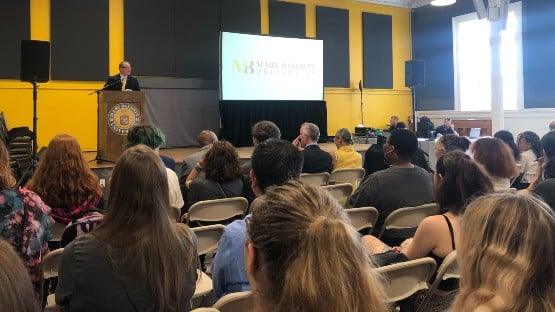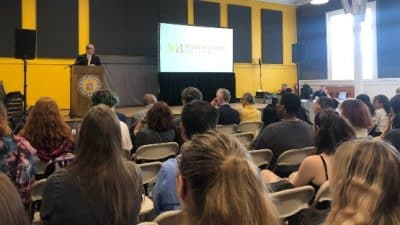 "College is your chance to carve out that unique path, to shape your destiny and to leave an indelible mark on this world. Today marks the beginning of your new story. As you write it, write with passion, write with purpose and write with heart. Make it an adventure where you experience new things and new people. Make it a story of resilience and success," Jeffries said. "And I'd just like to say to you, again, welcome to the best chapter of your life."
Chief Academic Officer Will Webb said that he pursued a major in Criminal Justice and went off to college planning to become an FBI agent. However, college offers opportunities to explore and find your passion.
"We know that those things that matter to us become great guides in ensuring our passion, in helping find our way in the world," he said.
An English major learns the power of the written word and communication, a business major learns innovation, entrepreneurship and management skills, and a Health Sciences major learns about working in a health care setting.
Before Stein delivered his welcome address, MBU's VP of Enrollment Management Matthew Munsey said last Wednesday was a bittersweet day for him.
"Our work here is done," Munsey said. The admissions process was complete as the class was welcomed on campus. "You have officially arrived here at Mary Baldwin."
"Today is about you and your goals. Today is about you and your dreams. Today is about you and your future," Munsey said.
The Class of 2027 began fall semester courses at MBU yesterday.