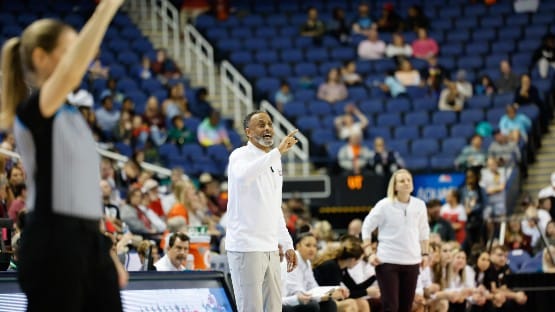 Kenny Brooks joked about being "sleepless in Seattle" after his Virginia Tech women's basketball team won its way into the Final Four late Monday on the Left Coast, then having his phone blow up early Tuesday with congratulations from back home in Waynesboro.
"I don't think people back home, East Coast, just period, know that we're three hours behind them, so my phone is buzzing, going like crazy probably starting here, like, 3:00, 4:00 in the morning. Yes, I've heard from a lot of people from everywhere, whether it's back home, JMU or Waynesboro or Blacksburg, everywhere," said Brooks, who will coach in his first Final Four when his Hokies take the floor Friday night to face LSU.
It will be a surreal moment for the 1986 Waynesboro High School grad, who won 337 games in 14 seasons as the head women's coach at James Madison, his alma mater, before taking over as the head coach at Virginia Tech in 2016.
Brooks' teams had gone 2-8 in NCAA Tournament games heading into 2023, but the Hokies had highi expectations heading into the season, picked to finish second in the loaded ACC in the preseason, then finishing the regular season in a tie for second with Duke, a game behind regular-season champ Notre Dame.
Tech won its final eight regular-season games, then swept its way through Greensboro to bring home the ACC Tournament championship to earn a #1 regional seed, the program's first-ever.
But the team's identity was forged, according to Brooks, in its last loss, a Jan. 26 setback at Duke.
"When we lost to Duke, we learned a lot about ourselves," Brooks said. "There was no yelling in the locker room after that game. I told the kids, let this sting. We'll get another opportunity to play them, and I said, don't let it bother us. Let it kick us forward.
"From that moment, the look in their eyes, they've been pure professionals. They've gone out, everyone understands their role, and they've done them, and they've starred in their roles," Brooks said. "The way these kids play for each other is something special. I've never had a group that plays for each other as much as this group does."
Remarkably, the Hokies never trailed in any of their first three NCAA Tournament wins, finally falling behind for a stretch in the first quarter and second quarter in the Elite Eight game with Ohio State.
"They shot the lights out in the first half, and we just kept understanding that we were a half-step slow on some of our coverages in the scheme, and we shored that up in the second half, made the shots a little bit tougher," Brooks said. "This is a very resilient group. They play possession by possession, game by game. They don't look ahead. They keep their composure, and we talked about keeping composure, particularly in this game, because we felt that Ohio State, their press, there's a lot of talk about their press, and they got on a run, don't lose your composure.
"So, when we got down, I think we only got down by a few points, maybe three or five, but they kept their composure throughout, and I knew they would, because we have great leadership."
Which starts at the top with Brooks, who at age 54, 21 years into his career as a head coach, will coach in his first Final Four this week.
"You know what, it's such an honor to do it," Brooks said. "Very few people get to do it, unless you're Geno. But no, I've always thought it would be cool. I thought it would be really cool because I've gone to the open practices where everyone is around, and they get to watch you, and we all want to grab a piece of what somebody who's been that successful, what they're doing.
"For me now, we'll come to the open practice, and there will be people watching and thinking the same thing. So, it's a very cool moment," Brooks said.