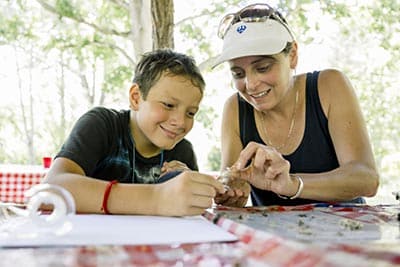 Bilingual students from the Rockbridge County School system were invited to Washington and Lee University's campus for an enrichment program this summer hosted by English for Speakers of Other Languages, or ESOL.
ESOL, a student community-service organization established at W&L in 2001, provides English classes, tutoring, and interpretation and translation services and collaborates on event-planning with and in the Latinx community. ESOL has launched such events as college and career nights, book fairs and movie nights and has co-sponsored the Latinx Festival.
The three-week summer program, which ran from June 13 through July 1, welcomed bilingual students to W&L's campus to practice their English literacy skills and other core subjects.
But it wasn't all work and no play – the educational element was accompanied by summer entertainment like sports and art projects.
"I've been improving my reading and doing math. Every day was a fun day for me because we went to the pool and played lots of games like ultimate Frisbee and capture the flag," said Manny Garcia, a rising fifth grader.
The idea for a summer program originated a few years ago when ESOL and Project Horizon formed a focus group with local Latinx families to identify what areas in Rockbridge County could use more attention. These folks – most of whom work full-time jobs – noted the struggle to find summer programs for their children.
Fiorela Giraldo Prado de Lewis, senior program coordinator for inclusion and engagement at W&L, was working at Project Horizon at the time of the focus group. She helped with these conversations and served as an informal liaison between ESOL and the Latinx community.
"ESOL started with that idea of trying to help families have the same type of resources other families had – these families that could not afford to pay for summer camp for their kids or to go to a club for swimming lessons, soccer or other types of [activities]," said Giraldo Prado de Lewis.
W&L Spanish professors and ESOL co-directors Ellen Mayock and Jayne Reino led the effort alongside a dedicated and talented team.
All of ESOL's hard work paid off with last month's launch of Programa SOL. Participants ranged in age from kindergartener to ninth grade. Most came from Spanish-speaking households, while two came from Chinese-speaking homes.
Financial support for the program came from community partners Rockbridge Community Health Foundation/Carilion Rockbridge Community Hospital, the United Way of Rockbridge Charske grant and the Grace Episcopal Church Gadsden trust. Additionally, Rockbridge County Public Schools provided free transportation and meals for all participants and daily in-the-trenches support.
Each morning, the students engaged in physical activity like swimming and team sports, followed after lunch by approximately two hours of lessons in reading, math and other subjects. Students were grouped by age for education sessions led by eight program assistants, all of whom were W&L students and alumni.
Programa SOL's college campus setting, along with the fact that many of the program assistants identify as Latinx, inspired some of the kids to consider attending university in the future. Giraldo Prado de Lewis noted that many members of this underrepresented community often do not see higher education as a potential avenue for themselves.
"I think we have a pretty diverse program staff. It's important to see people [that you can identify with] doing well and succeeding. I think it's just all the more positive and encouraging," Reino added.
Swimming was one of the biggest hits among the students, who spent six days at Lexington Municipal Pool thanks to a partnership with Friends of Rockbridge (FOR) Swimming, a community organization that organized and ran swimming lessons for the kids. Most of the participants entered the program with little to no swimming experience. By the end of the three weeks, many of those students were able to complete basic strokes, float in the water, and muster up the courage to jump off the diving board into the deep end.
For more information, visit esol.academic.wlu.edu.
Story by Sara Butler