U.S. Sens. Mark R. Warner (D-VA) and Johnny Isakson (R-GA), members of the Senate Finance Committee, introduced bipartisan legislation to create a temporary transitional reimbursement structure for Medicare home infusion services.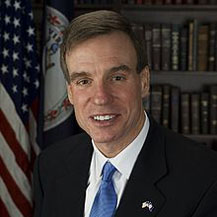 A version of legislation introduced by Sens. Warner and Isakson last Congress to restructure the way Medicare beneficiaries who need intravenous medication receive their infusion treatments from the comfort of their home was included in the landmark 21st Century Cures Act last year. However, theCures bill did not properly align the change in payments with the new benefit, leading to a four-year gap during which patients would have challenges securing these life-saving treatments. This legislation ensures that patients receiving home infusion treatments maintain their access to these services until policies from the 21st Century Cures Act are implemented in 2021.
"Home infusion is a safe and effective alternative to inpatient care for many patients," said Sen. Warner. "This bill expands on the progress made on 21st Century Cures by creating a transitional payment system that will allow Medicare to continue paying accurately for the drugs, while also protecting patients' access to important services. This commonsense fix will help the Medicare program provide high-quality, lower-cost care, benefiting both patients and taxpayers."
"Infusion therapy delivered in the home setting is the most desirable, convenient and by far the most cost-effective. We made important progress for modern medicine in the 21st Century Cures Act, and the home infusion therapy legislation that Senator Warner and I included in that bill makes a real difference for patients who need safe and effective treatments," said Sen. Isakson. "Home infusion technology is a tremendous contribution to quality health care, and this legislation builds on the Cures Act to help ensure home infusion remains accessible."
The legislation is cosponsored by Sens. Tammy Baldwin (D-WI), Michael Bennet (D-CO), Richard Blumenthal (D-CT), Sherrod Brown (D-OH), Ben Cardin (D-MD), Chris Coons (D-DE), Kirsten Gillibrand (D-NY), Chuck Grassley (R-IA), Angus King (I-ME), Amy Klobuchar (D-MN), David Perdue (R-GA), Rob Portman (R-OH), Pat Roberts (R-KS), Jeanne Shaheen (D-NH), and Roger Wicker (R-MS).
"This bill builds upon previous legislation so Medicare beneficiaries can receive infusion treatments at home," Sen. Grassley said.  "This is an option that Medicare beneficiaries sought, and it's a common sense, cost-effective way to provide care.  The private sector recognized this long ago.  Medicare should continue to reflect the modern practice of medicine and offer the best way of meeting a medical need at the lowest cost."
The Medicare Home Infusion Therapy Access Act of 2017 would create a transitional reimbursement for Medicare home infusion services. Starting in January 2017, the 21st Century Cures Act changed the payment for home infusion drugs, aligning them with payments for other drugs paid underMedicare's Part B benefit. The 21st Century Cures Act also created a new reimbursement structure for the professional services associated with home infusion, which is set to take effect in 2021. The four-year gap between the January 2017 drug payment change and the implementation of the infusion services payment in 2021 may threaten the accessibility of home-infusion therapy. This bill would help smooth the transition to more accurate payments for home infusions drugs while also protecting patients' access to these medications until the new home infusion benefit is implemented in 2021.
Sens. Warner, Isakson, Roberts, Grassley, Cardin, Brown, Portman, and Bennet are all members of the Senate Finance Committee, which has jurisdiction over Medicare.
The legislation is supported by: Accreditation Commission for Health Care (ACHC),  American Association of Heart Failure Nurses,  American Association for Homecare,  American Society for Parenteral and Enteral Nutrition (ASPEN),  Amerita, Inc., American Association for Homecare, Appalachian Home Infusion, ARJ Infusion Services, Best Option Healthcare PR, Inc., Big Sky IV Care, BioScrip, BJC Home Care Services Pharmacy, Brooks Home I.V., Inc., CarePro Health Services, CGH Medical Center, Chartwell Midwest Wisconsin, LLC, Chartwell Pennsylvania, LP, Choice CriticalCare Inc., Consortium of Clinical Immunologists (CIIC), Coram, CVS Specialty Infusion, Services, Druid City Vital Care, EMED Technologies, EMZA USA LLC & DeliverIt Pharmacy Inc., Fairview Health Services, Gates Healthcare Associates, Inc., Grifols, Hobbs Pharmacy, Home Health United Xtra Care Pharmacy, Home Parenteral Services, Horizon Healthcare Services, ICU Medical Inc., Infusion Solutions, Inc., Innovatix, INS, Intra Pump Infusion Systems, Intramed Plus, IV Solutions, LLC, John Hopkins Care Group, Kaup Pharmacy, Inc., Lakeland Home, Infusion, Liberty Medical Specialties, Inc., Medical Accounts Receivable Solutions, Inc. (MARs), Medical Alternatives, MK Infusion Pharmacy, LLC., MSD, Nation's Home Infusion, NuCara IV Services, One Source Homecare Services, OptiMed Infusion Services, Option Care, OptionOne Pharmacy, Paragon Healthcare Inc., Pediatric Home Service, Pharmacare Health Specialists, PharmaScript Inc., Preferred Homecare, Premier Infusion Care, Premier Nursing Group, LLC, Premier Point Home Health, Inc., PromptCare Home Infusion, LLC, Redline Specialty Pharmacy, SBH Medical, Ltd., Sentara Home Infusion Pharmacy, Sentara HealthCare, Simfarose Pharmaceutical Specialty, Smiths Medical, Soleo Health, Spectrum Infusion, Inc., TANYR Healthcare, The Immune Deficiency Foundation (IDF), The National Home Infusion Association (NHIA), Thomas Jefferson University Hospitals, UnityPoint at Home, University of Iowa Community HomeCare, VGM Group Inc., Vital Care, Inc., and the VNA Home Infusion Therapy Pharmacy.
Companion legislation was introduced in the U.S. House of Representatives by Reps. Pat Tiberi (R-OH) and Bill Pascrell (D-NJ) and has been referred to the Committee on Energy and Commerce, and in addition to the Committee on Ways and Means  (H.R. 3163). The full text of the legislation is availablehere.