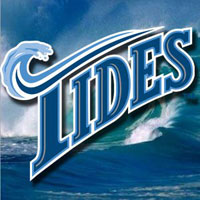 Ryan Adams delivered the game winner for the Norfolk Tides Wednesday night at Harbor Park to defeat the Lehigh Valley IronPigs 5-4 in front of 4,810 fans.
Carlos Rojas got the inning started with a leadoff walk. Kyle Hudson followed with a sacrifice bunt attempt, but Justin DeFratus made an errant throw that sailed over Kevin Fransden's head at first base and gave the Tides runners at second and third base with no outs. The IronPigs opted to intentionally walk Matt Angle ahead of Adams's walk-off hit.
The scenario seemed unlikely just a half inning prior as the IronPigs nearly duplicated their heroics from the previous night off Tides reliever Willie Eyre. Delwyn Young led off the inning with a double. Pete Orr then hit a ball to Carlos Rojas at shortstop who threw late to third base to give the visitors runners at the corners with no outs. Following a groundout, Eyre intentionally walked Erik Kratz to load the bases. The strategy paid off as Eyre was able to get Carlos Rivero to ground out into a double play to end the threat unscathed.
Eyre (1-0, 0.00) picked up the win after tossing just the 1.0 inning.
Rich Thompson nearly single-handedly gave the IronPigs a 2-0 lead after three innings. The speedy centerfielder tripled to lead off the game before scoring on a sacrifice fly from Fransden. Thompson later singled to lead off the 3rd inning and immediately stole second base. He moved up another bag on an errant pick off attempt by Tides starter Chris George and came around to score on Fransden's ground out.
George locked in after giving up the leadoff single to Thompson in the 3rd inning. The former first round draft selection retired 14-straight batters to allow his team to get back into the game.
The Tides took a brief lead in the 6th inning. Trailing 2-1, Tyler Henson and Robbie Widlansky connected on back-to-back home runs to make it 3-2. The Tides added another run later in the frame on an RBI single by Hudson.
The lead was short lived, though. George retired the first two batters of the 7th inning before his streak ended on a Kratz double. Rivero followed with a game-tying two-run homer to tie the game.
George lasted 7.0 innings and allowed four runs (three earned) on six hits.
DeFratus (2-2, 4.34) took the loss after tossing 1+ innings. He didn't record an out in the 9th inning after allowing no hits and one walk in the 8th inning.
The two clubs will finish up their four-game series with a matinee contest Thursday at 12:30. LH Brian Matusz (1-3, 4.14) will try to salvage a split opposite LH Ryan Feierabend (9-7, 5.72).