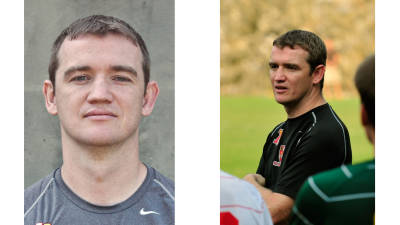 VMI athletics regrets to announce the passing of Tony Conway '01, former men's soccer assistant coach and three-year men's soccer letterwinner.
Conway spent five years as an assistant coach at VMI, a team he was the co-captain for in 2000 when he started 16 games. He also spent several years as associate director of admissions at Washington & Lee University. At W&L, he served as the administrator for the university's recruiting software and database, in addition to web presence and various print and electronic communications.
"Tony was a special man," said former VMI head coach Stephen Ross '83, Conway's coach at the Institute. "As a player he was passionate about the game, and nobody ever questioned his desire or ability. As a team leader and captain, Tony pushed everyone. He challenged even his closest teammates and brother rats to perform and he played no favorites. To Tony, being captain wasn't about popularity, it was about doing what was best for the team. Tony believed in giving back, and he coached and developed many young men on and off the field. I value the contribution he made in my own son. Tony was always quick with a smile and was a loyal friend, father, husband and son. In life, Tony was a joy to be around and through his battle with ALS he pulled the Lexington soccer community together. Tony's courage in facing ALS was simply heroic, and I will miss him a great deal."
On the soccer field, as a junior, Conway was one of seven players to play in all 17 matches for the Keydets, earning 12 starts. Conway also provided a much needed offensive boost from the back line, as he led the team in assists with helpers coming against Belmont, UNC Asheville, Wofford, and The Citadel.
Prior to Lexington, Conway played in the youth club systems for Crystal Palace FC, as well as Reading FC as a youth in Scotland.
Following his graduation from the Institute, he was tabbed the head man of the Rockbridge County High School team, where he was also a teacher for three years.
Conway, a native of Glasgow, Scotland, is survived by his wife Amanda and daughters Cora and Louise. Funeral arrangements are pending. For more information on Tony Conway's story, please visit the blog archives of www.dontshrink.com.