Rodney Glasgow notched 26 points and seven assists, QJ Peterson scored 25 markers including seven three-pointers and the VMI Keydets shot 50 percent from the field en route to a dominating 107-93 win over the Presbyterian College Blue Hose in Big South action Friday night at Cameron Hall in Lexington, Va. A 29-12 edge in second chance points was a key factor in VMI running its home record to 10-1 on the season with the victory.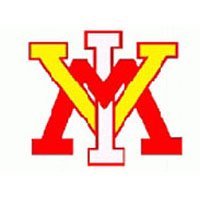 VMI (12-9, 5-3 Big South) trailed 2-0 early, but responded with an immediate 14-2 run to take the lead for good. The Keydets led by as many as 18 in the first half and ran that margin to 27 in the second half, going up 87-60 with 10:49 left, before a Presbyterian (4-19, 0-8 BSC) 20-3 run cut the margin to 10 with just under six minutes to go. The home team was able to gradually pull away down the stretch, however, to take the win.
By scoring over 100 points, VMI hit the century mark for the second straight Big South game for the first time since Feb. of 2007, when the Keydets accomplished that feat in four straight contests.
Peterson had 19 second half points and seven total three-pointers, setting a new career-high in that category, while D.J. Covington notched his ninth double-double of the year with 17 points and 13 rebounds.
Presbyterian was led by William Truss' double-double, 11 points and 12 rebounds, and Jordan Downing's 22 markers and eight rebounds.
After leading 14-4 at the 15:11 mark, VMI promptly scored nine of the game's next 11 and was up 23-6 after a Tim Marshall three with13:23 on the clock. PC battled back, however, using a 17-7 push of its own to chop the margin to seven, 30-23, with 8:44 showing, and after a brief Keydet comeback, to six with 4:58 left in the half.
That was the closest the visitors would get the rest of the way. The home team finished the half on a 14-5 run, a push that saw five different players score, and led 56-41 at the break.
The second half was more of the same, as VMI gradually pulled away to go up 27, 87-60, with 10:49 on the clock and seemingly put the game away. After a thunderous Craig Hinton dunk made it a 27-point contest, however, the Keydets missed 10 of their next 11 shots and PC took advantage.
The Blue Hose got seven points from Downing in the 20-3 run that pulled them within 10, 90-80, with 5:49 to go before Peterson and Glasgow restored order. The two Keydet guards answered the PC run by scoring 12 straight VMI markers, enabling their team to hold off the PC rally attempt and prevail for their 10th home win in 11 tries this season.
For the game, VMI finished 41 of 82 overall (50%) from the field and 15 of 32 from long-range (46.9%), while PC was 32 of 67 (47.8%) and 8 of 17 (47.1%) in those categories. The Keydets finished with a 47-41 edge on the glass, running their mark to 10-1 this year when they outrebound their opponent, and Peterson's scoring extended VMI's record to 12-1 this season when he scores at least 19 points.
VMI basketball will return to action Wednesday, taking on the Gardner-Webb Runnin' Bulldogs in Boiling Springs, N.C. Game time is set for 7 p.m.
Quotes – VMI Head Coach Duggar Baucom
"I'm proud of our guys they way they fought through adversity tonight. QJ made a couple of three's, Rodney made some great plays and D.J. controlled the boards."
"Credit QJ Peterson with coming back after picking up two quick fouls. He came out in the second half and really played."
"We've had a good January and it was a good month for us. If we could have a similar February, that would be awesome. We had three losses by a combined 10 points and could have gone the other way."
"I thought that was Craig Hinton's best 14 minutes of the year. He challenged shots, he did a good job rebounding. He never quit working coming back from his injury and he was rewarded tonight."