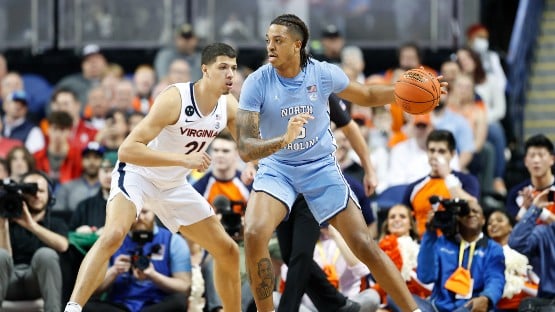 Bennett finds right mix with Vander Plas done for the season
The rumor mill heated up during the day on Thursday to tell us that Virginia grad senior Ben Vander Plas, who had started the past 15 games at center, had broken his right wrist in practice on Wednesday and was out for the season.
Virginia Athletics confirmed the news just after 6 p.m., as the Cavaliers were taking the court at the Greensboro Coliseum for pregame warmups.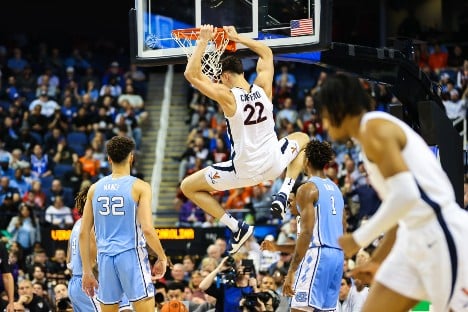 Tony Bennett went with another grad senior, Francisco Caffaro, as his starter at the five spot, and also took the moth balls off Kadin Shedrick, who had started 14 games this season, but of late had fallen out of the rotation, and didn't even get garbage time at the end of the 75-60 Senior Day win over Louisville on Saturday.
Shedrick ended up giving Bennett 19 minutes off the bench, with the added dimension of rim protection – he blocked five shots – that had been noticeably missing with him on the sidelines of late.
Caffaro, in his 13 minutes, had a modest four points and two rebounds, but Papi was effective in checking UNC center Armando Bacot, who had just four points and three rebounds in 21 minutes.
Bacot, averaging 16.3 points and 10.6 rebounds per game coming in, was limited by a sprained ankle that he sustained in UNC's 85-61 win over Boston College on Wednesday.
His mobility almost at zero, Bacot was neutralized by the post-to-post double-teams with whoever was in the game between Caffaro and Shedrick and Jayden Gardner, who would slide over from the four spot.
Bacot only got up four shots from the field in his 21 minutes, and he didn't get to the line once.
He'd been averaging 10.6 field goal attempts and 6.7 free-throw attempts per game coming in.
The sum total, meanwhile, for the night for the UVA center duo: eight points on 4-of-5 shooting from the floor, three rebounds, five blocks in 32 minutes.
Not gawdy, but the job got done.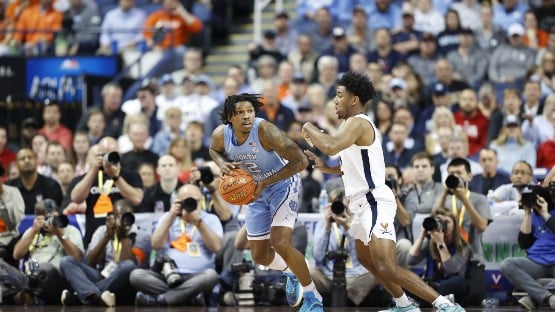 There was your DPOY
Reece Beekman, fresh off having been named the ACC Player of the Year, had a night befitting the honorific.
In addition to the 15 points and five assists he had on the offensive end, Beeks had a season-high five steals.
Over his last four games, Beekman is averaging 8.8 points, 7.5 assists and 3.0 steals per game.
Another interesting set of counting numbers: he has 30 assists, one turnover and 12 steals over that span.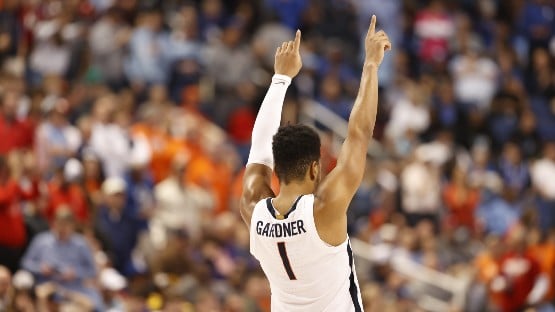 Big night for Gardner
Jayden Gardner is in another one of those stretches where he's carrying the team in terms of his productivity.
The 6'6" grad senior had 17 points and 10 boards Thursday night, and he's now averaging 16.0 points and 6.7 rebounds per game over his last five, on 61.1 percent shooting from the floor (33-of-54) and 87.5 percent shooting from the line (14-of-16).
Thursday night, Gardner was 7-of-8 at the line, all in the final 10:09.
About that free-throw shooting
Admit it, you were nervous when the lead was down to two in the final minutes, and Carolina started putting UVA on the line in the one-and-one.
Over their last seven games, dating back to the 9-of-22 at the line debacle in the OT win over Duke on Feb. 11, Virginia had shot just 60.9 percent from the stripe (67-of-110).
And with 1:59 to go in this one tonight, UVA was just 7-of-12 (58.3 percent), pretty much right on target for how things had been going.
Virginia closed out the game shooting 9-of-10 at the line in the final two minutes.
Just like misses can be contagious, the makes we saw in the closeout sequence also seemed to be contagious.
Metrics good on both ends
Virginia shot 49.0 percent from the floor (24-of-49) for the game, 58.3 percent (14-of-24) in the second half.
The 68 points on 57 possessions works out to 1.193 points per possession.
Over their last three games, Virginia is averaging 1.203 points per possession on offense, a big bump up from the 1.115 PPP the team is averaging on the season.
The D was even better in Thursday's win over UNC, which shot just 35.3 percent from the floor (19-of-53) and was 8-of-27 from three (29.6 percent).
In Carolina's 71-63 win over Virginia in Chapel Hill two weeks ago, the Heels shot 46.8 percent from the floor and connected on 10-of-22 (45.5 percent) from three.
Virginia also forced 11 UNC turnovers Thursday night, and converted those opportunities into a 14-2 advantage in points off turnovers.