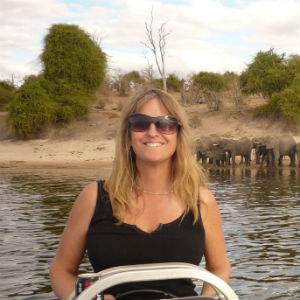 Kathleen Alexander, a veterinarian and wildlife professor who studies community-wildlife interactions, infectious diseases, water quality, and natural resources sustainability at Virginia Tech and in northern Botswana, showcased some of her projects on Capitol Hill on April 26.
As a member of the American Society for Microbiology (ASM) Public and Scientific Affairs Board Committee on Agricultural and Food Microbiology, Alexander was invited to present her National Science Foundation(NSF) funded research at the Coalition for National Science Funding 22nd Annual Exhibition and Reception, "Investments in STEM Research and Education: Fueling American Innovation."
At NSF's research and education project showcase, Alexander will present posters highlighting her work on international development and public and wildlife health with an emphasis on balancing human health and environmental sustainability, which is funded under two NSF award programs: Ecology and Evolution of Emerging Infectious Diseases and Dynamics of Coupled Natural and Human Systems. She will present her scholarship on the manner in which diseases are transmitted at the human-animal-environmental interface. She will also showcase her extensive outreach and education program in Botswana and the U.S., funded in part by NSF.
"My work in Africa takes an interdisciplinary approach to the study of infectious disease, integrating divergent study elements, from human culture and behavior to hydrological dynamics and climate change," explained Alexander, associate professor of wildlife in Virginia Tech's College of Natural Resources and Environment, which USA Today's College Edition ranked as the nation's top natural resources program. She is also an affiliate of the university's Fralin Life Science Institute.
She has been involved in efforts to understand and combat the Ebola outbreak in West Africa and the cholera outbreak in Haiti. Alexander, whose work in published in high-impact journals and is highly cited, has also discovered new strains of tuberculosis and water-borne pathogens.
Alexander and her research team have made a number of important findings in Botswana that have influenced policy and planning in the country, with implications for national and global public, animal, and environmental health. She discovered a novel emerging tuberculosis (TB) pathogen related to human TB and identified the widespread occurrence of antibiotic resistance in wildlife, even in protected areas, a surprising finding.
She was the first to identify the occurrence of important zoonotic pathogens, such as leptospirosis, among wildlife in Botswana, a finding with significant public health implications. She also found that brucellosis was a continuing presence in wildlife populations in the Chobe region. This important pathogen can be transmitted to humans through the handling and consumption of bushmeat. Her work on diarrheal disease in children identifies critical linkages between human health, wildlife, and environmental change.
"Our work in Botswana crosses scales and disciplines, from using molecular genetic tools at Virginia Tech to evaluate microbial population dynamics in the river flood plains, to the inclusion of how health-seeking behavior and health belief systems at the household level can influence disease reporting and treatment. An integrated approach is necessary to address the increasing number of global challenges that confront us," Alexander explained.
The purpose of the Capitol Hill exhibition, similar in nature to a science fair, is to showcase NSF funded research and education projects to members of Congress and their staff. NSF is an independent federal agency created by Congress in 1950 to advance science, health, and the well-being of citizens.
Alexander co-founded the Center for African Resource: Animals, Communities, and Land Use (CARACAL) in the Chobe district of northern Botswana, which embraces biodiversity and grassroots engagement so citizens will have a sustainable future. Her husband, Mark Vandewalle, an adjunct faculty member in the College of Natural Resources and Environment, co-directs the nongovernmental organization with her.
Two U.S. ambassadors to Botswana have visited the center, located in the town of Kasane.