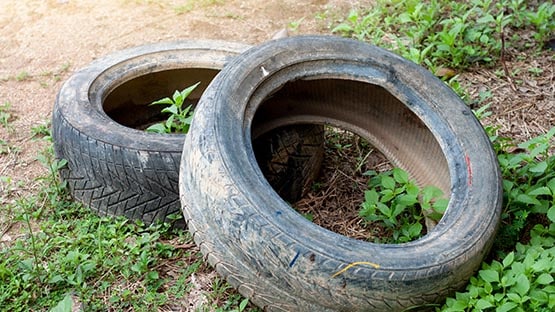 A team led by a mechanical engineering professor has been selected by the REMADE Institute and Virginia Tech to receive $1.5 million for enhancements in the efficiencies of tire retreading.
When commercial vehicle tires wear out they are put through the process of retreading, where the entire surface of the tire is buffed away and a new layer of tread is adhered. Approximately 14.5 million tires are retreaded every year in the United States, and results in less waste than completely replacing worn tires.
However, inefficiencies exist in the process. Nearly 9 pounds of excess material are wasted per tire and retreaded tires can cause a drop in vehicle fuel efficiency.
Virginia Tech L.S. Randolph Professor of Mechanical Engineering Chris Williams was awarded funding in a 1:1 cost share between the REMADE Institute and Virginia Tech.
"We are really excited to undertake this challenging project, which integrates advances in polymer science and manufacturing including 3D scanning, 3D printing, and industrial robotics," Williams said. "If all goes well, the resulting retreading technology could result in annual reductions of about 90 metric kilotons of tire waste and 800 metric kilotons of CO2 [carbon dioxide] emissions across the retreading industry."
The REMADE Institute, a public-private partnership established by the U.S. Department of Energy, is the first American institute dedicated to accelerating the nation's transition to a circular economy. The institute has an emphasis on efficiency and waste reduction, and a circular economy that maximizes the reuse and recycling of materials.
REMADE Chief Executive Officer Nabil Nasr said the anticipated results of Williams's project will move the U.S. closer to the nation's energy conservation and emissions reduction targets, both of which have received renewed national attention recently.
The team will use 3D scanning technologies, new materials that can both be printed and resist the solicitations of commercial vehicle tires, as well as industrial robots that can print these materials only at selected locations around the used tires. The development and evaluation of the bonding materials, along with the methods for applying and curing them on the tire, will rely upon team members' experience in polymer science.
"On behalf of MII, we are very proud that the REMADE Institute has recognized that this team of our faculty and students is uniquely skilled to take on the profound challenges of this project — from the basic science needed to create new materials capable of seamlessly mating with complex tire surfaces to engineering principles that will ensure durable tires that meet strict safety requirements," MII Director Robert Moore said.
Arizona State University and tire manufacturing company Michelin will also partner with the project. Tim Long, professor and director of Arizona State's Biodesign Center for Sustainable Macromolecular Material and Manufacturing, will provide the expertise in synthesis of high-performance elastomers that are suitable for 3D printing. Michelin will bring the expertise in tire design, performance characterization and vision for industrial sustainability goals. Virginia Tech's role will be to create a new manufacturing process that selectively deposits Long's materials along the tire surface to meet the performance requirements of the tire industry.
"The only way to address this project's grand challenge of reimagining the tire retreading process is through a team-based transdisciplinary approach focused in simultaneous considerations of materials, the additive manufacturing process and the final tires' performance," Williams said.