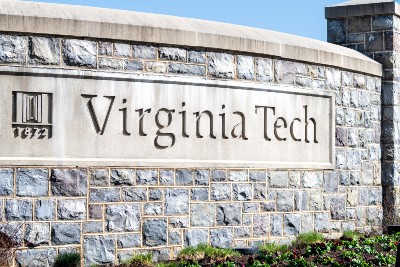 Virginia Tech football coach Brent Pry saw what he wanted out of his team in its 27-7 win over Wofford last weekend.
"Obviously, there are going to be things we will have to emphasize going into the upcoming week, but I thought we were able to move the ball and stay on schedule better. That was certainly a point of contention," Pry told reporters after the game.
The Hokies were 7-of-13 on third downs, which helped keep the chains moving.
"We had some long, extended drives. We weren't just as good in the red zone as maybe we wanted to be. We kicked the ball well, but I would like to score touchdowns there," Pry said.
Grant Wells had a clean game – 26-of-35 for 314 yards and two TDs, and no INTs.
Wells, the Marshall transfer, threw four INTs in the 20-17 loss in Week 1 at ODU, but he hasn't had a pick since.
The QB1 indicated after the Wofford game that he is feeling more comfortable with the new offense.
"We grade each other every Sunday. We take grading seriously here. We learn a lot each week, and we are going to continue to learn through the end of the season. I think we are doing great week to week," Wells said.
Lane Stadium on a Thursday night
The reward for Tech fans for having an 11 a.m. Saturday kickoff with a bad FCS team is Thursday night, prime time, West Virginia in town.
"I can't say it enough, but thank you to our fans. It was impressive. I can't say that I am not necessarily surprised, but at 11 a.m., it was a great feeling in that stadium. Our players appreciate it. It was a great atmosphere," Pry said in his weekly presser on Monday.
"Obviously, there's a super big build-up to Thursday night," Pry said. "I'm sure Lane will be electric. We're looking forward to that. Everybody, download your tickets and get ready to go. We want everybody in there nice and early. It's a national TV game. We'll have tons of prospects watching, and we want to ensure that we showcase the environment and put our best foot forward."
Hollifield: Trying to keep it simple
Tech linebacker Dax Hollifield was somehow left off the All-ACC preseason football team, but he hasn't had anything to say about that, preferring to let his play do the talking for him.
The fifth-year senior has an off-the-charts 86.6 season grade from Pro Football Focus through three games, with 23 tackles, two QB hits, one QB hurry, two fumble recoveries, two pass breakups, two passes defensed, and an NFL passer rating against at 85.4.
The key to his solid early start: "I've been trying to take what I do in practice throughout the game," Hollifield said.
"I am trying not to overcomplicate things. What I do in practice is what I am going to do gameday. Having that mindset and trusting my practice habits will translate to every game. Then, just a lot of film study. Just getting comfortable with the defense. It feels like it's finally really clicking on all cylinders. So, we are just trying to keep doing that week in, week out," Hollifield said.