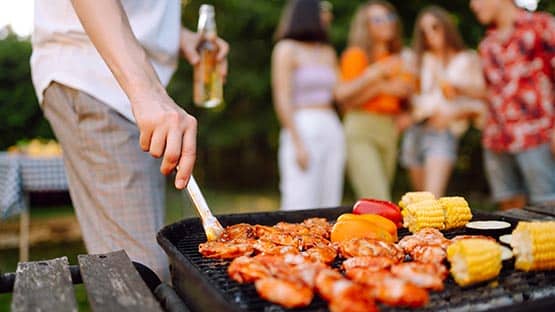 With the recent rise of craft beer in the United States, Americans now have more beer choices than ever before.
While it's tempting to drink your favorite beverage with every dish, pairing the right beer style with your dish of choice can elevate your Independence Day celebration.
Ann Sandbrook, food chemistry lab manager in the College of Agriculture and Life Sciences' Department of Food Science and Technology at Virginia Tech, offers a few tips to help you choose the right beer for each course of your Fourth of July cookout.
"People know that pairing the right wine with the right food is important, but not as many people know that the same is true for beer," Sandbrook said. "For example, the roasted malts in an amber ale that give the beer its characteristic color also provide caramel notes that go great with the smoky richness of barbecue chicken."
For the traditional July Fourth fare — burgers and hot dogs — Sandbrook recommends something light and crisp, like a helles.
"Virginia Tech's Fightin' Hokies Lager is actually a really great option," she said. "It's a German-style helles, and the light bitterness from the noble hops will cut the fattiness of red meat, making for a great summer pairing."
For dessert, Sandbrook said to pick a beer that's darker and sweeter, such as a stout or porter.
"A dark malt-forward beer such as a stout really complements ice cream especially," she said. "The longer roast of malt is what gives stouts those chocolatey or coffee flavors that work so well with various dessert foods."
Higher alcohol content and bitterness aren't the best options in hot weather, so keep your ABV and IBUs down when the heat is up, Sandbrook said.
"Hops add bitterness to a beer, and an extremely bitter beer is drying and not as refreshing when it's hot out," she said. "Alcohol is dehydrating and gives that hot sensation in high concentrations, which magnifies any bitterness in the brew. A lower alcohol beer light in bitterness makes for a more refreshing drink. This would include styles such as session beers that are lower in alcohol content and bitterness compared to typical IPAs or American pale ales that are balanced between the malt and hops profiles."
Don't forget that beer can also be an ingredient in your cooking, Sandbrook said. The same concepts for pairing beer and food can be applied to cooking with beer.
"If you don't want to grill out, you can try beer-braised bratwurst or hotdogs with a hefeweizen or kolsch," she said. "Adding beer in the pan while the meat cooks and allowing it to reduce down adds in a lot of beer flavor to the dogs. A brown ale also makes a great marinade addition, as the alcohol and acid in the beer aids in tenderizing meats while adding some flavor."