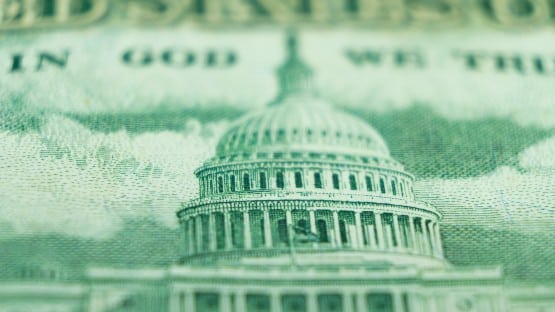 At least two House Republicans from Virginia aren't on board with the debt-ceiling compromise announced by House Speaker Kevin McCarthy and President Biden on Saturday.
Fifth District Congressman Bob Good was emphatically critical of the deal in a pair of tweets posted after details of the deal started leaking out.
"I am hearing the 'deal' is for a $4 trillion increase in the debt limit," Good said. "IF that is true, I don't need to hear anything else. No one claiming to be a conservative could justify a YES vote.
"We could negotiate a 'deal' like this with a Democrat House majority. This would essentially be what they wanted," Good said.
Sixth District Congressman Ben Cline didn't speak for himself, but he did retweet a statement from the House Freedom Caucus:
"Reporting indicates we're looking down the barrel of a debt ceiling increase more than double what we passed in the #LimitSaveGrowAct … While the critical policies to restore fiscal sanity and jumpstart economic growth appear immensely watered down. Unacceptable. #HoldTheLine!"
The basic framework of the deal includes an agreement to keep non-defense spending flat for the next two fiscal years, work requirements for people receiving food stamps and TANF benefits, and cuts $10 billion from the $80 billion earmarked for the IRS to go after tax cheats.
"I think people will look back and say, 'Well, I didn't get exactly what I wanted.' But there's something in here that – it shouldn't be about you, it should be about America. America believes that we have spent too much, so this spends less," McCarthy said Saturday night, trying to sell the deal while acknowledging that it "doesn't get everything everybody wanted."
"But that's, in divided government, that's what we end up with," McCarthy said.
The House will be asked to take up a bill codifying the deal on Wednesday. McCarthy, facing the criticisms of Good, Cline and other far-right Republicans in his caucus, will need to whip up bipartisan support to secure its passage.
He may have at least one House Republican from Virginia on his side.
"I am encouraged to hear we finally have a #debtceiling deal that prioritizes American taxpayers, avoids a catastrophic default, and protects the economic future of our country," Second District Republican Jen Kiggans wrote on Twitter.
"While I wish @POTUS had agreed to start negotiations back in January when @SpeakerMcCarthy first called for them – rather than waiting until the 11th hour – I am eager to review the bill text. We must get our country back on track and restore fiscal sanity in Washington…!!"