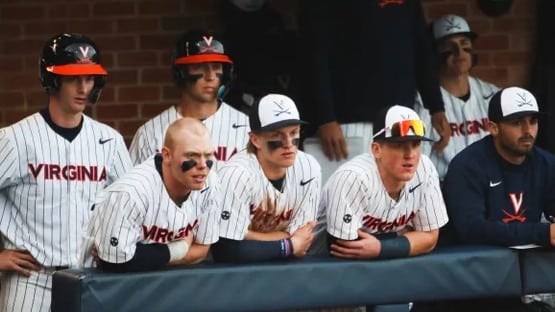 The new NCBWA baseball poll has Virginia up five spots, to #12, matching where the 'Hoos are in the D1Baseball.com poll.
Baseball America, the USA Today coaches poll and the latest RPI rating all have UVA at #9.
Collegiate Baseball ranks Virginia sixth.
Where this all matters: the top 16 teams in the country get to host the regional round that begins next weekend, and the top eight get national seeds that would set them up to host through the super regional weekend.
Virginia (44-11) completed its second straight ACC weekend sweep on Saturday with an 8-7 win over Georgia Tech.
The win pushes the Cavaliers' winning streak to 10 games, a nice hot streak after a 5-7 slump that had started to mirror last season's second-half swoon that ended that UVA season with a thud in the regionals.
Now Virginia has its eyes on the ACC Baseball Championship, which has the 'Hoos as the top seed in Pool B, matched up with North Carolina (33-21, 14-14 ACC) and Georgia Tech (30-25, 12-18 ACC).
The way the ACC Baseball Championship works is, each team gets two games in pool play, and the team with the best record in each of the four three-team pools advances to the semifinals, which turns to a single-elimination format.
It would obviously help the cause to go at least 1-1 down in Durham. A deep run should push the 'Hoos from being a borderline national seed more into safe territory as far as having a number attached to their name is concerned.