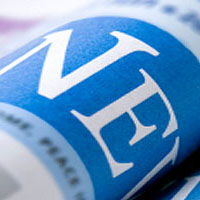 In honor of Hunger Action Month, Virginia Cooperative Extension's Family Nutrition Program and the Blacksburg Farmers Market have partnered to host the 2015 Farmers Market Supplemental Nutrition Assistance Program Challenge from Sept. 13 -19.
Typically, the SNAP challenge encourages participants to get a sense of what life is like for millions of low-income Americans facing food insecurity by committing to eating all of their meals on a limited food budget comparable to that of a SNAP participant – $32 for seven days, or $4.50 a day per person.
During the Farmers Market SNAP Challenge participants will have the option to budget more money – up to $52 for seven days, or $7.40 a day per person –  if they spend at least $10 at the market twice during the seven-day challenge.
The bigger food budget reflects the $10 SNAP matching program at the Blacksburg Farmers Market, allowing participants to get a better understanding of how crucial the Blacksburg Farmers Market's SNAP doubling program is to the food insecure communities in Blacksburg and surrounding areas. The doubling program is a cash matching program funded in part by the farmers market that allows SNAP members to double their benefits up to $10.
Participants can sign up online to register for free and pledge to take the challenge, or by visiting the Virginia Cooperative Extension table at the farmers market for a kick-off registration event Saturday, Sept. 12, from 9 a.m. – noonwhere they can also learn more about the Family Nutrition Program.
On Sept. 1, Extension will host a '"tabling event" at the Blacksburg Farmers Market from 2 p.m. to 5 p.m. for challenge participants to share their experiences and have a public conversation about SNAP.
Outside of the farmers market those who take the challenge can interact socially and keep up with Virginia Cooperative Extension's updates using the hashtag #fmSNAPchallenge on Facebook andTwitter.
For more information about taking the Farmers Market SNAP Challenge contact Community Nutrition Coordinator Meredith Ledlie-Johnson.