Sports
Virginia, after going back to the drawing board, set to welcome Syracuse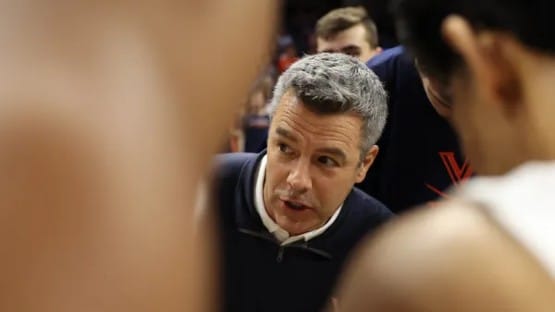 The three preseason favorites in the ACC – North Carolina, Virginia and Duke – are each 2-2 in league play.
The teams ahead of them: Pitt (preseason: #14), Clemson (preseason: #11), NC State (preseason: #10) and Syracuse (preseason: #8).
Virginia gets Syracuse on Saturday, trying to fix issues on the defensive end that were costly in a 68-65 loss at Pitt on Tuesday.
The Cavaliers (10-3, 2-2 ACC) gave up 45 points in the second half in the defeat, blowing a 12-point second half lead.
"We still had a chance, but that won't cut it defensively. We'll just have to get back and go back to the drawing board," Bennett told reporters after the loss.
Virginia also went through a painful-to-watch 5:50 scoring drought in the second half, coinciding, disastrously, with the defensive lapse, keying a 14-0 run that got Pitt back into the game, after the Cavaliers that had dominated the first 24 minutes.
This from a team that ranked in the top five nationally in adjusted offensive efficiency in November in a six-game stretch that included wins over Baylor, Illinois and Michigan, but has averaged just 1.018 points per possession over its past seven games, a total that would rank 182nd nationally for the full season.
Bennett acknowledged in the Pitt postgame that he's still trying to figure out lineups and his rotation.
The biggest issue to him, though, is getting things right on the defensive end.
"One of the deals that we have with the team is, you know, high accountability in the areas of max effort and alertness in our system," Bennett said. "There'll be grace in other areas, if you miss shots, things happen. But one thing we can't do, I don't know, it looks like it came a little easy. In the first half, there were good stretches of defense. But I didn't see, you know, we weren't connected.
Getting to know Syracuse
Jim Boeheim is still there, so the Orange (10-5, 3-1 ACC) still play his 2-3 zone, with size on the wings (6'7" freshman Chris Bell, 6'9" sophomore Benny Williams), a big guy in the middle (6'11" senior Jesse Edwards) and speedy guys up top (6'1" senior Joe Girard, 6'3" freshman Judah Mintz).
The shocker this year is that Boeheim is actually using his bench, getting double-digit minutes from 6'11" sophomore Munir Hima, 6'10" junior John Bol Ajak, 6'8" freshman Maliq Brown and 6'6" freshman Justin Taylor.
Girard, who is not shy, leads the team in scoring with 16.7 points per game, on high volume (13.7 shots per game), and decent numbers from three (37.3 percent, on 7.9 attempts per game).
Mintz averages 15.7 points and 4.2 assists, shooting 43.2 percent from the floor, but just 17.2 percent from three.
Edwards is a productive big guy, scoring 13.9 points and pulling down 10.9 rebounds per game, and shooting 61.7 percent from the field.
The Orange will try to push pace (15 percent of their possesssions are transition, and they score 1.067 points per possession in transition, per Synergy Sports), and they're excellent on cuts (1.115 PPP) and pick-and-rolls (1.000 PPP).
Defensively, Syracuse has just been average this year – allowing 0.996 PPP, which ranks 118th nationally, per KenPom.
Projections
Bart Torvik: Virginia 69-56, 92% win probability
ESPN BPI: Virginia +12.9, 90.2% win probability
KenPom: Virginia 70-58, 86% win probability
EvanMiya: Virginia +11.8, 86.9% win probability