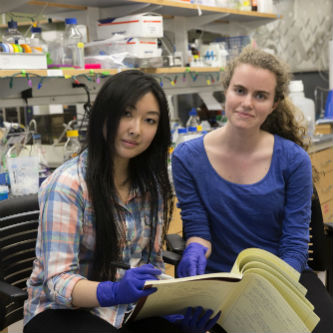 Investigating drug-resistant parasites and movement disorders has netted two University of Virginia second-year students prestigious research awards.
Ana Untaroiu of Charlottesville, a second-year biomedical engineering major in the School of Engineering and Applied Science, and Lucy Jin of Yorktown, a second-year neuroscience major in the College of Arts & Sciences, have landed Arnold and Mabel Beckman Foundation Scholarships.
Earlier this year, the University received a three-year renewal of the Beckman Scholars grant – maintaining UVA as one of 10 universities nationwide selected for the program, largely because of its commitment to quality undergraduate research. The grant, worth approximately $156,000, funds scholarships to two undergraduate researchers per year working in chemistry, biochemistry and the biological and medical sciences. The scholars are selected locally and the grants provide $21,000 in stipend and travel for two summers and one academic year. Each mentor is provided with an additional $5,000 to be used in direct support of their scholar.
"These are some of the highest awards in the nation for excellence in undergraduate research," said William Guilford, director of UVA's Beckman Scholars Program, director for educational innovations and undergraduate program director in biomedical engineering in the schools of Engineering and Medicine. "Our students always deliver exceptional research proposals, living up to Arnold Beckman's guiding principle that 'there is no satisfactory substitute for excellence.' We are fortunate to have such incredibly hard-working undergraduate scientists at UVA, guided by such dedicated research mentors."
Untaroiu  is working in Professor of Biomedical Engineering Jason Papin's computational systems biology laboratory and Research Assistant Professor of Biology Jennifer Güler's malaria laboratory, which focuses on the human-infective malaria parasite.
"She uses RNA sequencing and computational biology to understand how the parasite that causes malaria evolves to become resistant to drugs," Guilford said. "This improved understanding will help design new drugs and new multi-drug regimens for the treatment of this disease which causes nearly half a million deaths each year."
"If successful, her work will shed light on movement disorders that come to afflict up to a quarter of the world's population as people age," such as amyotrophic lateral sclerosis, multiple sclerosis and rheumatoid arthritis, Guilford said.
A graduate of Charlottesville High School, Untaroiu plans on pursuing a doctorate in biomedical sciences that could eventually lead to a career with a strong research focus.
She is a very thoughtful student, Papin said. "She has really dived into her research project and in a short time she's already making significant progress. Ana is tackling a problem of tremendous importance and I'm very confident that she'll make lasting contributions to science."
"Ana really stands out among her peers as a proactive, engaged and intelligent student," Güler said. "I am excited to watch her mature as a scientist over the coming years."
Jin's research in Associate Professor of Biology Christopher Deppmann's developmental neuroscience laboratory is examining the role of destructive cues in the early development of sensory systems – specifically, how members of the tumor necrosis factor receptor superfamily, through destructive signaling, shape the proprioceptive system, a sensory system required for knowing the relative position of body parts in space.
A graduate of Tabb High School in Yorktown and an Echols Scholar, Jin volunteers in the emergency department at the UVA Medical Center; is a language consultant for the Volunteers with International Students, Staff, and Scholars program; and serves as an executive board member of UNICEF. She plans to pursue a Ph.D. and possibly an M.D.
"The Beckman Scholarship gives me the opportunity to learn about the research of other students from all around the nation," Jin said. "I also have the chance to gain valuable advice and feedback from other scholars and researchers on my work. The Beckman Scholarship will help me to continue discovering the many possibilities inherent in research."
"Lucy has demonstrated a great intellectual curiosity, a calm demeanor and an incredible work ethic," Deppmann said. "Her balance of talent and humility will serve her well as she continues to grow as a student, scholar and scientist. I couldn't be prouder of Lucy and know that she'll be a credit to the Beckman Scholars program."
This year, in an arrangement with the Beckman Foundation, the University will require its Beckman Scholars to take a new, three-credit course, "Applied Scientific Writing," focusing on scientific writing, graphics and illustration. Students will bring their own data to the course, and faculty members will guide them through the process of preparing their work for publication.
"Experimental work is incomplete until new discoveries are disseminated through publication," Guilford said. "Of equal importance, writing about one's research forces the scientist to challenge assumptions and perform additional research. Thus writing is a necessary component of the research process, though it is seldom treated as such when mentoring undergraduates."
The course, sponsored by the Office of the Vice President for Research and the Office of the Executive Vice President and Provost, will be available as an elective to other undergraduates, including students in the College Science Scholars and the neuroscience programs.