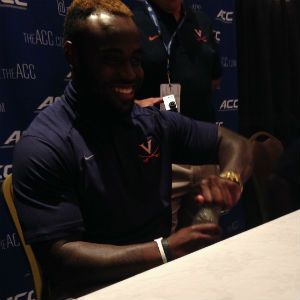 Q. Kevin, last season you eclipsed the 1,000 yard mark. What have you been doing this off-season to try to replicate or surpass those numbers this year?
KEVIN PARKS: For me I've been doing a lot of speed training, so those 20 yards, trying to turn those into 40, 40-yard gains, turn those to 60, and get more explosive plays for my team. I would just stay a whole lot of speed training.
Q. Last year you guys were in almost every game, although your record wasn't very good. You return almost everybody, and yet you're schedule is really, really difficult. You open with UCLA, you've got to play Louisville, Richmond, who's given ACC teams fits, then you go to BYU. How important is it to build this team's fragile confidence to get off to a really good start?
KEVIN PARKS: Yeah, in the off-season that was really important, we knew what teams we had to face this year, and I would just say the offseason it's been incredible, Coach O'Brien, he's got us together and he has did a tremendous job with us, and as far as our captains, me, Harris, Greyson and Henry, I feel like we're taking more leadership in the team in getting those guys together and getting ready for the season.
Q. You guys ended last year on a nine-game losing streak. What makes you think this year's team is going to be much improved?
KEVIN PARKS: In the offseason, like I said, we focused more on the little things, not jumping offsides, as far as training, making sure our foot was behind the line, just the little things that makes things right. We know what kind of season we've got ahead of us this year, and I believe we're ready for the task.
Q. First three games are at home. How important is it to get off to a great start on your home turf?
KEVIN PARKS: It's a big thing for us. We'll hopefully have a home crowd behind our backs. As far as UCLA, hopefully it's a big sellout, big crowd. It's going to be a big thing for us that we've got those home games. I believe it's going to help us out a lot.
Q. How about Greyson Lambert? Seems like you've got a lot of playmakers and talent on offense and it seems like a lot of riding on him. What are your impressions and do you think he can be a good quarterback for you guys?
KEVIN PARKS: Greyson has always been a great leader. Even when he wasn't playing last year and the year before that, guys always looked up to him. They always heard his voice. He's always been a vocal leader, loud, and guys are like, wow, this kid is serious about what he does. I'm excited for Greyson to lead this team. The other quarterbacks, as well, everybody looks up to the quarterbacks. It's going to be a big thing for us, and I'm ready for Greyson to show the world what he can do.
Q. The crowd support many times last year was not good when you guys were on the long losing skid. Is it just a matter of winning, getting that feeling back to bring the fans back to Scott Stadium?
KEVIN PARKS: I believe you're right. We have to do that, to get the crowd back in. I know my team and we're fighting hard, we're putting out everything we have, that should bring the fans back, let them know that we're fighting. Like you said, winning is a part of that, so we have to do that to keep the crowd alive and keep them coming.
Q. We're always curious as to why North Carolina guys that play their high school football leave. Were you heavily recruited by any of the in-state schools and what made you choose Virginia?
KEVIN PARKS: No, that's really good. I wasn't heavily recruited by North Carolina, so Virginia, they stuck with me. They didn't care about my height. They didn't care about how fast I ran. They looked at my academic side, and I was pretty good in that. They always stuck by me, and I always felt this was the right school for me.
Q. Kevin, Louisville has been dubbed your rival, I guess, with the new realignment of the conference. What do you know about Louisville, if anything?
KEVIN PARKS: You know, watching them on TV last year, you seen they had Teddy Bridgewater. They're a great football program, so you know, them coming to the ACC is just making the ACC that much better. It's a good thing that they're coming, and I believe my team is ready to face, to play them.
Q. Talk to me a little bit about pass protection, the job that it is at the running back and pass protection in this league with so many great defensive ends?
KEVIN PARKS: Yeah, that's something you take great pride in. With your blocking assignments, you have to know who's coming in at all times. Because if you don't, you can get the quarterback killed, so I believe that's something my running back crew, we take great pride in. We're always paying attention to detail and know where guys are coming and knowing our assignments. That's something big and that's something we've got to do to help Greyson out this year.
Q. Is there any one player in particular inside this league that you find difficult in picking up in pass pro? Obviously I'm thinking about Vic Beasley.
KEVIN PARKS: Playing him last year, I seen him flash across — I mean, really fast one time. I said, man, who is that, and then I realized, seen the back of his jersey, and it was Vic Beasley. But Morgan did a very good job of him last year, Morgan Mosley, so we have to keep our eye on him because he's a great player, and he's a good player for the ACC.