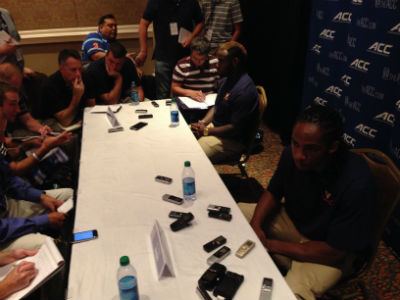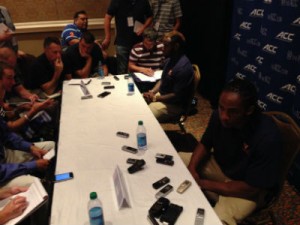 Q. You had a phenomenal year, but all those interceptions probably put you on everyone's radar. Do you anticipate teams game planning away from you, and what are some of the things that maybe the defensive brain trust is doing to disguise where you'll be so you can still get those interceptions?
ANTHONY HARRIS: Yeah, well, last year I had a really big year. I'm anticipating this year that some teams try to throw away from me a little bit, but you know, teams are going to do what they're going to do. They're going to do what they practice, and sometimes if I'm in that particular area then they're going to have to take a chance, and I'm pretty sure there will be times in games where teams trying to take a shot, they have good players, too, and they have a facility where they work and get better, so I'm sure there will be opportunities for me to make plays and for me it's all about just studying film, making sure my technique is right, that I continue to listen to my coach and trust that he'll put me in position to make plays.
Q. Anthony, how good can this defense be, and do you feel like the defense may have to carry the offense for the first start of the season?
ANTHONY HARRIS: Yeah, well, we're very confident in our defense. We feel like last year we had the opportunity to be a really good defense. We showed some good signs early on in the season, and then for one reason or another, whether it was injuries and stuff like that, or the guys just wearing down, we weren't quite consistent at coming to the midpoint of the year and the thickness of our schedule. Coming into this season we have a lot of guys returning. Because of the injuries we have a lot of people who played a lot last year who's gotten better a lot in the spring, so we feel like we've added a lot of depth. So for this year we feel like our defense is definitely a high point and that we're going to look to lean on. But our offense has improved in the offseason in every aspect as far as position-wise and knowing the offense and knowing what they're doing out there, so it's all about getting comfortable with the offense and defense and just growing as a team.
Q. What did you learn since spring ball about yourself and about your defense?
ANTHONY HARRIS: About myself, you know, just guys really look up to me. I started to notice it during the season last year, but coming into this season, right away, right off the bat, guys have been looking for me as far as work ethic and setting a good example, how I study games, guys want to know what I'm thinking and stuff like that. I just now realize the influence that I have, and I'm trying to use that to impact my team in the best way, whether that's on the field or off the field.
Q. What has your team done on defense to work really hard to try to improve your numbers from last season? I know that you returned the majority of the secondary. What have your linemen and linebackers been working on?
ANTHONY HARRIS: Everybody is just working on knowing the small details of the defense. The defensive line wants to know how the linebackers fit in with what we're doing on each play. On the secondary we're looking to see where the linebackers fit on run support and not just worrying about pass coverage, so we're all just trying to get to know not only what each individual position is doing but how the other positions on the field affect us and then building on what the team wants to do to attack us. I think this year we're not just focusing on individuals as a position, but we're focusing on the defense as a whole.
Q. You're one of those guys who has the proverbial nose for the football. How does one go about establishing or developing a nose for the football?
ANTHONY HARRIS: It just comes, you know, over time. Just seeing a lot of football, being around it, knowing route concepts, so guys who have been in the game a lot, they know when you see one route, which route could possibly be coming on top of it or behind it. Just being around football and knowing route concepts, knowing offenses, known tendencies, and just with experience guys knowing how to get the ball.
Q. Coming off a 2-10 season what would you consider a successful season this year?
ANTHONY HARRIS: It's hard to really put a number on it. Each season holds something new. It's all about getting better and trying to work in the offseason. Whatever number that may be can be the highest number possible.
Q. Anthony, coming off that nine-game losing skid to end the season, how critical is it for you guys to get a few wins right out of the block this season?
ANTHONY HARRIS: Yeah, you know, we somehow strung together a bunch of losses, whether they were close or not, but we've noticed the difference between some of the games have been one or two plays here and there. Starting the season it's big to come out, get a win, get the ball rolling in the direction that we want it to go. That way right away the fan base will start to grow and come back and be more supportive, so once you get things going in the right direction, that's when it gets a little bit easier for you, but it's hard to get it turned around, but I feel like we've grown a lot and we've learned from some of the mistakes that we've made, and we're going to be better this season.
Q. Anthony, who's pushed you the most offensively on your side when you're going up in spring ball? Who do you feel has challenged you the most so far?
ANTHONY HARRIS: There's a lot of guys who have really jumped out at me who's gotten a lot better, Darius Jennings, he's a veteran guy, he knows the offense very well and he's came along, he's pushing me, he's a very explosive guy, can stretch the field, and then we have some younger guys who came and grown up on the scene, Canaan Severin and Keeon Johnson, guys who played a lot last season but who have gotten a lot of experience. But they're out there and getting reps now and they know what they're looking at when they're running their routes but they've been able to put a few here and there. I'm excited to actually see what the guys can do for us in the game this year.