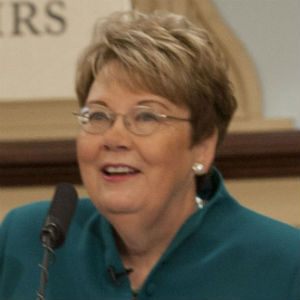 University of Virginia President Teresa A. Sullivan is in the midst of her largest international trip on behalf of the University, traveling to five Asian cities in 12 days.
Sullivan will meet with three university presidents and United States' ambassador to Japan, Caroline Kennedy, during her trip, which is aimed at expanding the University's opportunities in the region.
Between now and June 2, Sullivan will travel to Singapore, Hong Kong, Shanghai, Beijing and Tokyo. Panel discussions with academic partners and engagement events with UVA Clubs will be held in each of the cities she visits.
Coming on the heels of graduation weekend in Charlottesville, Sullivan kicked off her program Tuesday in Singapore at a UVA Club reception with Ian Baucom, dean of the College of Arts & Sciences, and Carl Zeithaml, dean of the McIntire School of Commerce. Addressing alumni, students, parents and friends, the trio discussed the University's upcoming bicentennial celebration and plans to position UVA to become one of the world's premiere universities in its third century.
Several UVA deans are participating in portions of the president's trip. In addition to Singapore, Baucom will join Sullivan in Hong Kong and Shanghai. Robert Pianta, dean of UVA's Curry School of Education, participated in an educational panel in Singapore. Allan Stam, dean of the Frank Batten School of Leadership and Public Policy, will travel to Beijing and Tokyo. Zeithaml will also be in Hong Kong and Shanghai.
In Hong Kong on Friday, the president will join her counterpart at Hong Kong University of Science and Technology, Tony F. Chan, at the Asia Society for a presidential forum on finding success after college.
While in Shanghai, she will meet with Xu Ningsheng, president of Fudan University, and Chen Qun, president of East China Normal University, Shanghai's largest university.
The president also will join the Shanghai Forum 2016 at Fudan University on Sunday. There, participants will discuss "Economic Globalization and Asia's Choice: Interconnectivity, Integration and Innovation: Building Community of Common Destiny in Asia."
In Beijing, Sullivan and Stam will speak May 31 at the Tsinghua Global Vision Lecture on the topic, "How Universities Can Educate Leaders for a Changing World."
On June 1 in Tokyo, Sullivan will deliver a talk on the growing role of women in higher education in the United States at the U.S. embassy's American Japan Center.
This is Sullivan's second official trip to the region. It builds on the foundation laid by her 2012 visit and a subsequent visit by then-Executive Vice President and Provost John Simon and Vice Provost for Global Affairs Jeffrey W. Legro. In March 2015, UVA officially opened its China office in Shanghai with a celebration attended by Executive Vice President and Chief Operating Officer Patrick Hogan, Legro and five deans.
Sullivan caps her current trip at Tokyo's Sophia University, where she will join Kennedy for a private educational roundtable with students about global citizenship following the G-7 Summit, which Tokyo is hosting May 26-27.
Follow #UVaAsia2016 and Sullivan @terrysulli on Twitter for updates during the trip.