Sports
UVA O line still grading low: This is going to be a season-long problem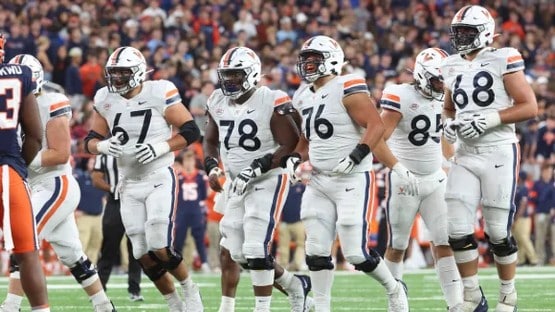 The UVA offensive line surrendered four sacks, though it did largely keep QB Brennan Armstrong upright in the Cavaliers' 22-20 loss at Syracuse on Friday night.
Armstrong, per numbers from Pro Football Focus, was pressured on 14 dropbacks, and was 2-of-9 for 11 yards on those dropbacks, one of the completions a 4-yard TD pass to Lavel Davis Jr. on a fourth-and-goal in the fourth quarter.
BA was sacked on four of those dropbacks under pressure.
Of note: he scrambled on three clean-pocket dropbacks, creating pressure for himself on those.
The run game was able to produce 143 sack- and scramble-adjusted yards on the ground on 22 attempts, with the best success through the A gap – on 11 runs between the guards, Virginia gained 86 yards, with individual gains of 17, 14 and 13 among those.
Individual O line grades: Syracuse
C Jestus Johnson: 67.2 grade, 54 snaps
LG John Paul Flores: 64.4 grade, 71 snaps
RG Derek Devine: 63.7 grade, 71 snaps
LT Logan Taylor: 60.2 grade, 71 snaps
C Ty Furnish: 45.8 grade, 17 snaps
RT Jonathan Leech: 45.3 grade, 71 snaps
Overall grades for the line through four games
Richmond: 33.8 pass block, 65.4 run block
Illinois: 29.5 pass block, 48.4 run block
ODU: 68.9 pass block, 68.7 run block
Syracuse: 54.9 pass block, 66.6 run block