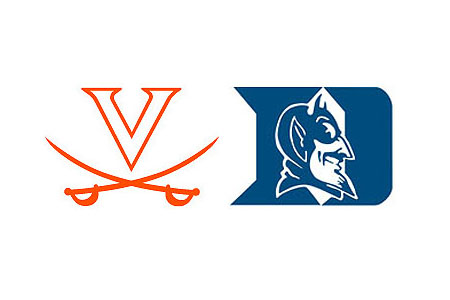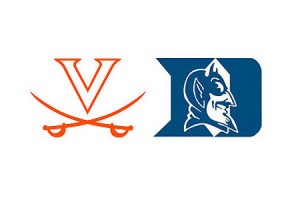 Duke football is riding about as high as you can get in that sport on that campus. A 5-1 start on the heels of a 10-win season that landed the Blue Devils in the 2013 ACC Championship Game and the Chick-fil-A Bowl is what David Cutcliffe has fans almost expecting now.
On Saturday, Duke gets the best shot of a team that is coming from where Duke was a few years back.
UVA (4-2, 2-0 ACC) is the upstart in the Coastal Division, picked seventh and last in the Coastal Division by the writers in the preseason ACC poll, but the 'Hoos are alone at the top of the Coastal with wins over Louisville and Pitt, and after coming into the season with coach Mike London on the hottest of hot seats, the focus now isn't on the coach and his job status, but on the chances that Virginia has to play in the postseason.
That starts for UVA football on Saturday in Durham. The 4-2 start came with five games at home; the second half of the schedule has Virginia on the road four times in its final six. Duke has owned the Cavs of late, winning five of the last six in the series, including a come-from-behind 35-22 win in Charlottesville last year.
How do these teams stack up this year?
Offense: Virginia is much improved from 2013, increasing its total offense by 9 percent per game, gaining 397.7 yards per contest and putting up 31.7 points per game. Quarterback play has been inconsistent. Starter Greyson Lambert is expected to be back in action on Saturday after missing the last two games with an ankle injury, and London said this week that he doesn't want to continue the carousel approach that marked the first six games with Lambert and Matt Johns splitting time.
Duke is putting up 434 yards and 35.8 points per game, and after a lackluster showing in a 22-10 loss at Miami three weeks ago, the Blue Devils struggled a little on offense in a 31-25 win at Georgia Tech last week, with QB Anthony Boone a pedestrian 16-of-26 passing for 131 yards, though the running game was able to put up some nice numbers, gaining 253 yards on 37 rushes against the Yellow Jackets D.
Boone has a 114.8 passer-efficiency rating, completing 57.8 percent of his passes for 1,186 yards and eight touchdowns with three interceptions. For comparison, Virginia's duo of Lambert and Johns has completed 62 percent of its passes for 1,324 yards and nine touchdowns, with a glaring nine interceptions the pockmark on the ledger. Even with the INT issue, the UVA duo has a higher passer rating than Boone, at 121.9.
Defense: Virginia's D ranks 11th nationally in defensive efficiency in the ESPN Football Power Index, giving up 330.8 total yards per game and 91.5 rushing yards per game, forcing 19 turnovers and recording 23 quarterback sacks. The focus for defensive coordinator Jon Tenuta's unit is stopping the run, making opposing offenses one-dimensional passing teams, then attacking the quarterback early and often, forcing bad decisions and ultimately mistakes. The formula is working.
Duke's defense ranks 40th in efficiency nationally, still top-tier, but holes are starting to become obvious. The Blue Devils give up an alarming 202.5 yards per game on the ground, and gave up 282 to Georgia Tech's triple-threat option last week. Duke has also had trouble getting to the quarterback, recording just four sacks through six games.
Special Teams: UVA kicker Ian Frye is 12-of-13 on the season on field-goal attempts, and is a strong link on the Cavs' team, virtually automatic from inside 48 yards (4-of-5 on kicks in the 40- to 49-yard range). Duke's Ross Martin is 8-of-8 on his kicks overall and is 2-of-2 on kicks in the 40- to 49-yard range. Duke punter Will Monday averages 44.7 yards per kick, and the kick coverage has allowed just six returns for 25 yards. UVA punter Alec Vozenilek averages 44.0 yards per punt, but kick coverage has been an issue, with Cavs' opponents gaining 167 yards on punt returns.
How this one plays out: Duke has committed just five turnovers on the season, but hasn't played a top-flight defensive unit that ball-hawks the way Virginia will on Saturday. Tenuta's D stifles the Duke running game early, limits Cutcliffe's play-calling options and eventually gets to Boone, the way it was able to get to UCLA's Brett Hundley and BYU's Taysom Hill in forcing subpar efforts from those elite-level quarterbacks earlier this season. UVA offensive coordinator builds a game plan around the power running game that really got going in the win over Pitt before the bye, and takes advantage of Duke's weakness in run defense to set up passes off play-action. The game will be a tight contest into the fourth quarter, when Virginia wears down the Blue Devils with its defense and running game, and avoiding turnovers takes the win.
Final: UVA 23, Duke 14
– Column by Chris Graham