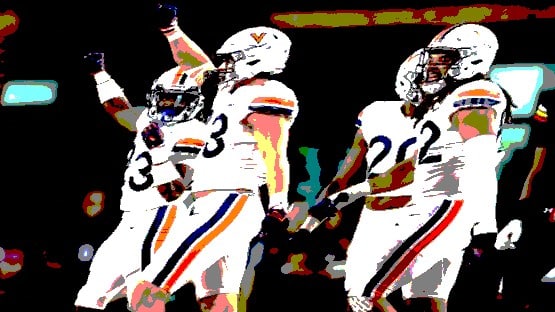 The defense was supposed to carry UVA as the offense figured things out with a new QB, a makeshift offensive line and a host of new skill guys.
Hasn't worked out that way.
The Virginia D is giving up 42.3 points and 451.7 yards per game this season. Not even the 2021 D, which allowed 31.8 points and 466.0 yards per game, was that bad.
OK, it was that bad – but remember, that defense was so bad that it ended up leading the AD, Carla Williams, to push Bronco Mendenhall to fire his defensive coordinator, a move that ended with Mendenhall just up and quitting.
John Rudzinski's unit was a bright spot in 2022, allowing a respectable 24.0 points and 357.6 points per game, which was why there was the feeling going into this season that it could be a building block for a program still trying to scratch out an identity.
The big problem evident through the 2023 season's first three games: depth, lack thereof.
Virginia opponents have combined for 47 points and 382 yards of total offense in the fourth quarter.
Maryland, in the 42-14 win over Virginia Friday night in College Park, put up 21 points and 165 total yards in the fourth quarter, putting the game away with drives of 80, 30 and 56 yards.
Head coach Tony Elliott doesn't want to use depth as an excuse for the defense's issues late in games, easy as it would be to do.
"Depth is what it is, you know, if you're, if you're out there on the field, it doesn't matter if you're a fifth-year senior or you're a freshman, man, you got to go play, the standard doesn't change," Elliott told reporters after the loss on Friday night. "You know, big thing that you've seen in the last two weeks is, man, we got to go make the plays, right, we can't, we can't wait for somebody else to make the play, we can't hope that the team across the field doesn't make the play, we have to go make the play and, and so I got to do a better job of, of, of reaching them and teaching them to, you know, help them understand the importance of every single play, especially in the fourth quarter."
Odd as it's going to seem for me to say this, the UVA defense actually did play better in the Maryland loss than it had in the first two losses to Tennessee and JMU. The Terps came in averaging a sliver over 200 yards per game on the ground, but only managed 135 sack-adjusted rushing yards on Friday.
The front got pressure – 14 QB pressures all told – even though it only registered one sack.
And get this, defensive back Tayvonn Kyle had a pass breakup, and only allowed two catches on four targets – after allowing 12 catches on 14 targets the first two weeks.
(He still had two missed tackles, but didn't lead the team in that stat. Linebacker Josh Ahern had four missed tackles.)
It was a game into the fourth quarter. Virginia had the ball in the red zone down 21-14 when true freshman quarterback Anthony Colandrea was intercepted on a third-down pass in the end zone.
The game didn't have to be over there; get a stop and a short field, and the offense could still make a game of it.
Here is where Maryland put the game away with a nine-play, 80-yard drive, the big plays being a 33-yard completion over Jonas Sanker that got the Terps into the red zone, a pass-interference penalty on Dre Walker that set up a first-and-goal at the 2, and then the Roman Hemby 3-yard TD run on third-and-goal.
Colandrea would go on to throw two more picks and lose a fumble on a scramble in the fourth quarter, so the offense imploded with the four turnovers, but the defense just was not able to bail out the guys on the other side of the ball.
"You know, it's a mindset, it's the mindset is that I gotta get, the longer I play, the stronger I get, the better I get, right. And then also understanding that, at that point in the game, effort's not enough, enough, there's got to be precision, right, there's precision and execution, that just going out there and playing hard is one component of it. You got to play hard, you got to play smart, you got to be precise, and you got to go make the play, you know, bottom line, you got to go make the plays," Elliott said.
"That's a hurt football team in that locker room, because, you know, proud of they they got up off the mat from last week, they came to battle today, they fought their tails off, they believed that they were going to win that football game. Now we just got to got to make sure that that late in games our precision is there, and then we don't leave anything to chance, that we go in, we go and take it. And that's why I gotta do a better job as a coach, just program-wide, getting everybody to understand what it takes to be able to do that in the fourth quarter," Elliott said.