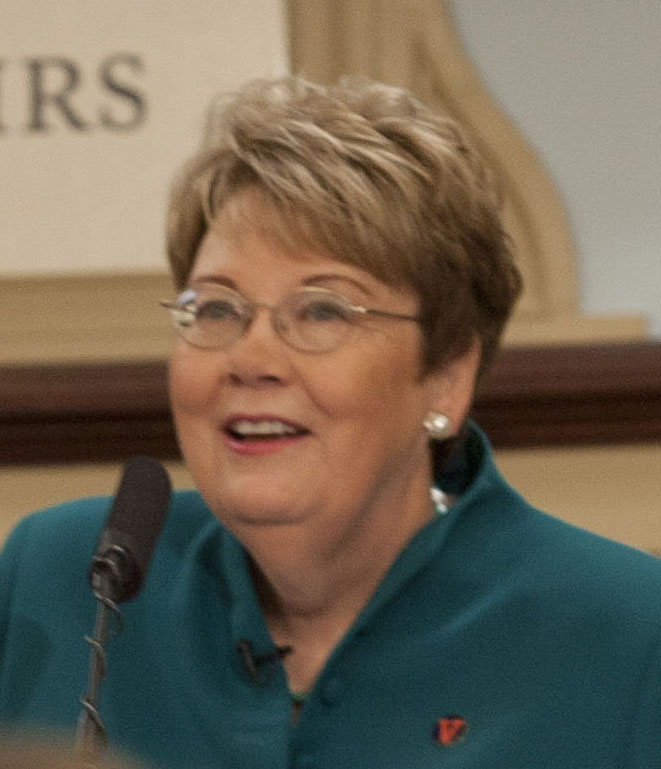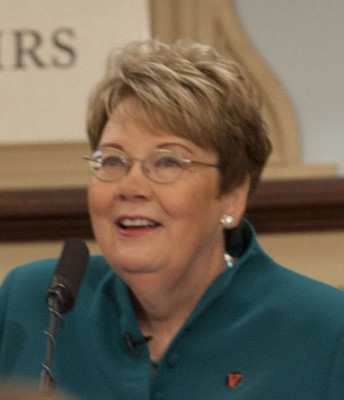 The University of Virginia Board of Visitors approved an extension of President Teresa A. Sullivan's employment contract on Tuesday during a special meeting in Charlottesville.
"President Sullivan has been and will continue to be a force for positive change that benefits the University of Virginia," Rector George Keith Martin said. "Her successes are many, from strategic vision to academic quality to enhancements to the exceptional student experience. President Sullivan leads with integrity and determination."
Sullivan, who began her tenure as UVA's eighth, and first woman president in August 2010, is scheduled to serve in the top post through July 31, 2018.  The approved contract includes a provision to allow Sullivan's successor to begin as soon as Nov. 1, 2017; and, if the Board does not does not select a successor before the end of the term, or if the president-select is unable to begin the presidency on Aug. 1, 2018, the Board may extend Sullivan's term to May 31, 2019.
"The University of Virginia is poised to make important advances leading up to its bicentennial. As we pursue our goals and aspirations, we will continue to ensure that UVA provides a superior education that is accessible and affordable to excellent students regardless of their background," Sullivan said. "I am very grateful for the opportunity to continue to lead this remarkable institution."
Since taking office, Sullivan has led the University through a period of significant progress and momentum, while at the same time providing steady leadership through challenging events.
She launched a planning effort in 2012 aimed at enhancing UVA's position as a leader in public higher education by identifying strategic priorities that distinguish the University among its peer institutions and developing plans to advance them. This comprehensive effort – which included gathering input from more than 10,000 alumni, students, faculty, staff, parents and others – resulted in a new five-year strategic plan for the University, the Cornerstone Plan, which will equip the University to move boldly into its third century.
An important strategic initiative within the Cornerstone Plan is the hiring of new faculty to succeed the large number of retiring faculty over the next decade, which Sullivan and the Board of Visitors have made a top priority.
Other successes associated with the initial implementation of Cornerstone Plan strategies include the launch of a Data Science Institute, which awarded its first degrees on Sunday; additional investments and refinements in student services such as advising and career services; the creation of the Meriwether Lewis Institute for Citizen Leadership; and a robust organizational excellence program that enhances the University's stewardship of all its resources — from financial to facilities to technological to human resources — and aligning its processes, technology and people to support institutional priorities.
Several top administrators – including all three executive vice presidents and several academic deans – have also been recruited to the University during Sullivan's tenure.  She also initiated a successful reorganization of the University's Health System.
In 2013, Sullivan led the University to the successful completion of its $3 billion capital campaign, and quickly recalibrated subsequent philanthropic strategies in support of the ongoing restoration of the Rotunda and other Jeffersonian Grounds priorities, faculty and need-based financial aid.
Sullivan and her leadership team also spearheaded the development of a new internal financial model to ensure transparency and stability while also encouraging innovation during a period of significant financial pressure in higher education.
And, she was an advocate for the University's new Affordable Excellence model that significantly reduces student indebtedness for qualifying Virginia residents.
Sullivan also developed more strategic partnerships with corporate partners and government agencies in order to bolster the University's research portfolio.
Board members praised Sullivan for important accomplishments during her tenure as president of the commonwealth's public flagship university.
"President Sullivan and her leadership team have made important strides in advancing the mission of the University of Virginia," Vice Rector William H. Goodwin Jr. said. "The board looks forward to working with her as we approach the University's bicentennial celebration."
"One of the traits of an effective leader is the ability to accomplish goals in the face of unpredictable challenges," board member and Finance Committee chair Victoria D. Harker said. "President Sullivan has faced obstacles during her tenure that are unprecedented in higher education, and has continued to keep the University focused on the issues that are most vital to our sustained success."
At the conclusion of her contract, Sullivan will be named University Professor and President Emerita.