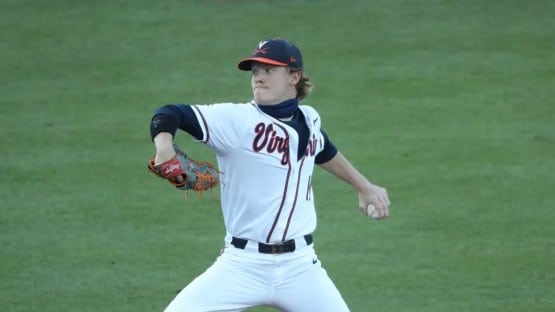 Andrew Abbott threw eight innings of one-hit ball for his fifth win, as the Cincinnati Reds defeated the San Francisco Giants, 5-1, on Thursday.
Abbott, a UVA alum in his rookie season with the Reds, improved to 5-2 on the season, and lowered his ERA across his nine MLB starts to 2.10.
The lefty, a second-round pick in the 2021 MLB Draft, struck out six and walked two on Thursday, despite telling reporters after the game that he didn't have his "best stuff."
"I actually came up to Luke after that last inning and said I didn't have my best stuff at all today but at the end of the day, you have to go out and compete," Abbott said, mentioning Luke Maile, his catcher, who also had a homer in the Reds win.
"I made some good adjustments in the middle of the game. I was just focusing on direction, so I stopped those wide misses. I made a good enough adjustment just to get in the zone," Abbott said.
The only hit off Abbott came in the fourth, when former Richmond Flying Squirrels farmhand Luis Matos doubled with two out. Leftfielder Will Benson hit the cutoff man, rookie shortstop Elly De La Cruz, who threw a 99.8 mph strike to Maile to nab Wilmer Flores, who had walked to lead off the inning, at the plate.
You read that right: the relay throw from De La Cruz was clocked at 99.8 mph.
That's the fastest throw from an infielder on an assist since StatCast started tracking throws in 2015.
The previous record: a 97.9 mph assist from De La Cruz on July 16.
Abbott retired the final 12 batters that he faced to close out his eight-inning stint.
"It impresses all of us. I don't think it impresses himself," Cincinnati manager David Bell said. "I think ever since the first day he came here, he knew what he was capable of. He expects it of himself. He respects the league. He respects the difficulty of what he has to do, but at the same time he pitches with great confidence."