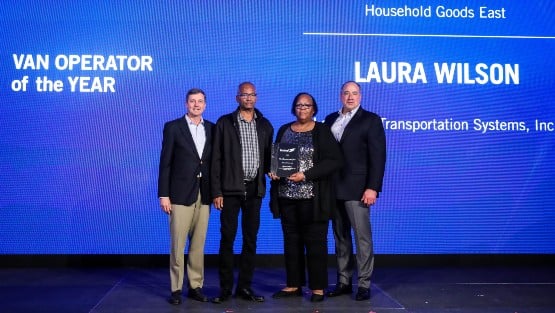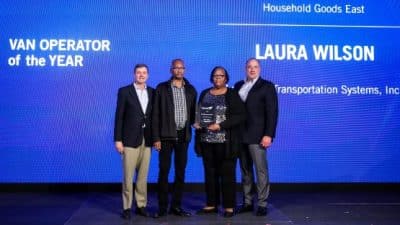 The United Van Lines Operator of the Year for the Household Goods East region is Staunton's Laura Wilson of Lawrence Transportation Systems.
Wilson's excellent performance in customer service and safety is recognized by the award, which was presented to her in St. Louis by United Van Line's President and CEO Jason Mills and Chairman of the Board Charles W. McDaniel at the company's Learning Conference.
"The secret to our exceptional service is the van operators in our network," Mills said. "Here at United Van Lines, we don't underestimate the effort, professionalism and dedication of drivers. We are privileged to honor Laura Wilson for her unwavering commitment and customer service with the 2022 Van Operator of the Year award."
When looking for a career change, Wilson found her love for the trucking industry. Her husband, Ronald, in the moving industry for more than 20 years, dreamed of owning his own truck. Wilson began driving her husband to work every day, and have since worked and traveled through 48 states in nine years.
"This accomplishment leaves me speechless as it's a prestigious award," Wilson said. "I didn't seek this out but making the customers happy and the love for seeing the country and its sights bring me true joy."
More than 3,900 driving professionals are in the United Van Lines network, and Wilson was one of three winners this year. The Van Operator of the Year award was first given in the late 1970s to recognize the men and women who sacrifice so much for a life on the road and who help other families through one of the most stressful times in their lives.